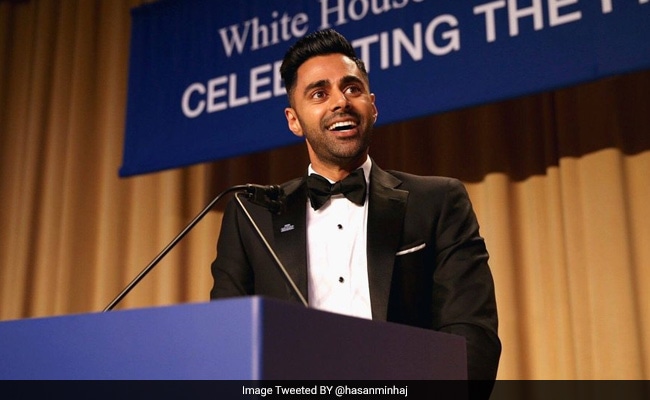 Highlights
President Trump skipped the dinner to address supporters in Pennsylvania
'He can't take a joke,' comedian Hasan Minhaj said about the President
Mr Minaj received compliments for his scathing comments
Washington:
Indian-American comedian Hasan Minhaj -- who nailed a biting takedown of the American President Donald Trump for skipping White House Correspondents' Dinner -- received huge accolades for masterfully blending comedy with politics.
"We've got to address the elephant that's not in the room. The leader of our country is not there. And that's because he lives in Moscow. It's a very long flight. As for the other guy, I think he's in Pennsylvania because he can't take a joke," quipped Mr Minhaj.
Donald Trump was the first president since Ronald Reagan, who didn't attend the dinner in 1981. President Reagan happened to be recovering from an assassination attempt. President Trump chose to skip the dinner to address supporters in Pennsylvania to mark his 100th day in office, where he launched yet another attack on the media.
While the media widely reported the President's remarks, Mr Minhaj said, "No one wanted to do this, so of course it lands in the hands of an immigrant".
It was followed a few more scathing comments.
"The news out of the White House is so stressful, I've been watching House of Cards just to relax."
"Who is tweeting 3am sober? Trump because it's 10am in Russia. Those are business hours," came next.
"You are how the president gets his news. Not from advisers. Not from experts. Not from intelligence agencies. You guys."
Mr Minaj received a standing ovation when he said, "Only in America can a first-generation Indian-American Muslim kid get on a stage and make fun of the President," in support of America's first amendment right to free speech.
Mr Minhaj is a senior correspondent with "The Daily Show" on Comedy Central. His parents emigrated from Aligarh, Uttar Pradesh to Davis, California, where he was born and raised. His mother spent the first eight years of his life away from him. She was in India completing medical school. He is married to his college sweetheart, Beena Minhaj, whom he met while they were both studying in the University of California, Los Angeles.