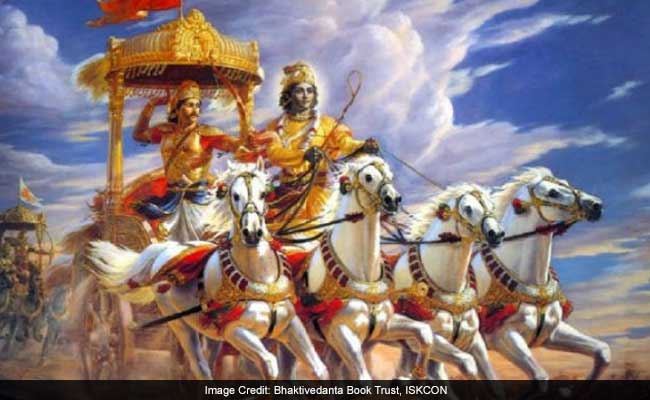 Highlights
UAE-based Indian businessman to invest 1,000 crore in the project
The film on Mahabharata is expected to release in early 2020
The ambitious project will be helmed by ad filmmaker VA Shrikumar Menon
New Delhi:
Be it for the Pandavas' unity, Krishna's tact or the unfortunate war,
The Mahabharata
has remained one of the most adapted, recounted and interpreted tales of all time. There have been numerous adaptations on stage and screen, and book shelves are always brimming with modern retellings of Sage Vyasa's epic narrative.
Now, a UAE-based Indian businessman is pumping in Rs 1,000 crore to produce India's biggest ever motion picture,
'The Mahabharata
'. The ambitious project will be directed by ad filmmaker VA Shrikumar Menon. To be produced in two parts, the shoot begins in September 2018 and the film is expected to release in early 2020.
The film will be shot in English, Hindi, Malayalam, Kannada, Tamil and Telugu and dubbed in major Indian and foreign languages, entrepreneur and billionaire Bavaguthu Raghuram Shetty's company said. The project will engage both Indian and international artistes, including Academy winners.
"This film will have an identity across continents," the announcement said, adding that Mr Shetty, Founder and Chairman of UAE Exchange and NMC Healthcare, has been a keen supporter of Indian arts and culture. It will be a true 'Make in India' product which aspires to highlight India's spectacular mythological storytelling, it said.
Padma Bhushan and Jnanpith Awardee MT Vasudevan Nair, whose 'Randamoozham' (The Second Turn), which narrates the epic through Bhima, the second of the Pandavas, will be adapted for the project, has also written the screenplay.
"I am confident that this film will be adapted in over 100 languages and reach over three billion people across the world," Mr Nair said.
Mr Menon, who has been researching for this project for the past few years, said, "We are fully geared to attain the next level of production quality and visual magic, as well as narrative wizardry with this initiative."
Interestingly, filmmaker SS Rajamouli is also planning a cinematic version of
The Mahabharata
. He had reportedly discussed the idea with Aamir Khan, who has shown keen interest in the director's 'dream project'. Actor Amitabh Bachchan is being considered for a key role in this big-budget retelling.
(With inputs from PTI)