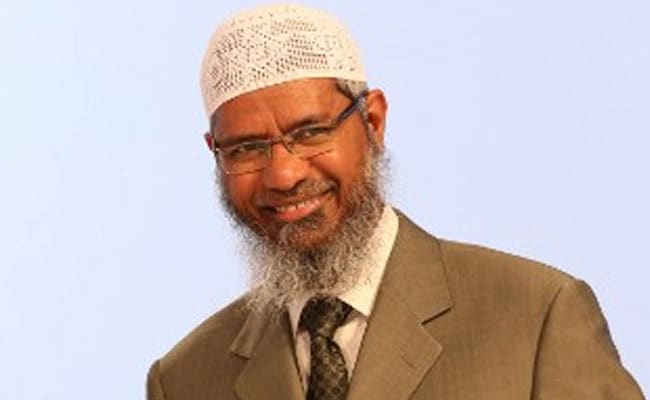 Highlights
Controversial Islamic preacher wanted in India for terror-related charges
India said yesterday Malaysia is reviewing request to extradite him
Malaysian PM says won't deport him if he is "not creating any problem"
Putrajaya, Malaysia:
Malaysian Prime Minister Mahathir Mohamad said on Friday that controversial Islamic preacher Zakir Naik wanted in India over allegations of terror-related activities and hate speech will not be sent back. His statement came a day after India confirmed that it had requested Malaysia to extradite Zakir Naik.
"As long as he is not creating any problem, we will not deport him because he has been given permanent residency status," Malaysian Prime Minister Mahathir Mohamad said at a news conference in administrative capital Putrajaya outside Kuala Lumpur, when asked about the reports.
Zakir Naik, a radical television preacher, reportedly left India in 2016 and subsequently moved to largely Muslim Malaysia, where he was granted permanent residency.
The Foreign Ministry yesterday said that Malaysia was reviewing India's request to extradite him which New Delhi made in January for allegedly inciting youth to engage in terror activities via his hate speeches. The two countries have an extradition treaty.
"At this stage, our request is under active consideration of the Malaysian side. Our High Commission in Kuala Lumpur is in regular touch with the relevant Malaysian authorities in this regard," Ministry of External Affairs spokesperson Raveesh Kumar said at a press briefing.
Zakir Naik, 52, has described the media reports as "totally baseless and false", adding that he has no plans to return to India until he felt "safe from unfair prosecution".
In 2010 he was reportedly barred from entering Britain after the Home Secretary cited "numerous comments" which showed his "unacceptable behaviour".
In a July 2008 TV broadcast Zakir Naik suggested that Al-Qaeda was not responsible for flying hijacked airliners into New York's World Trade Center on September 11, 2001, killing almost 3,000 people.
(With inputs from AFP)