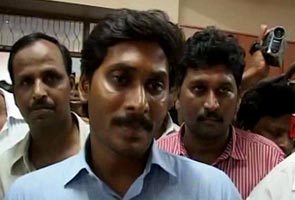 Hyderabad:
Jagan Reddy, son of charismatic Andhra Pradesh leader YS Rajasekhara Reddy and president of YSR Congress, has joined the Telangana bandwagon.
Hitting out at Congress government, Jagan said, "The Congress is talking in two voices on Telanagana and it has failed to keep its own word."
He went on to blame the Congress-led Central government for deaths of Telangana youth.
Jagan also said, "We are not in a position to give Telangana or stop Telangana. But YSR Congress respects Telangana sentiment."
"It is responsibility of the Central government to give a solution satisfying all sections because the power to make a new state also lies only with the Central government. They have to make sure no one is unhappy like an elder who arbitrates between two groups," Jagan said.
I feel bad that Congress has done this to my state due to their indecision and going back on decisions, he added.