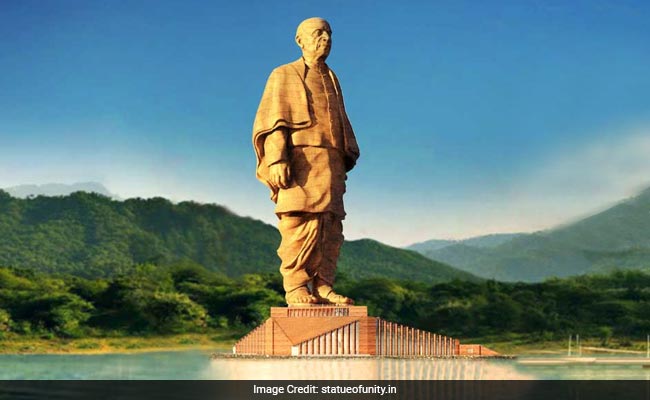 Lucknow:
Uttar Pradesh Chief Minister Yogi Adityanath has urged his Gujarat counterpart Vijay Rupani to allot a piece of land near the 'Statue of Unity' so that the state government can construct a grand Uttar Pradesh Bhawan there, a senior official said Thursday.
In the letter to Gujarat Chief Minister Vijay Rupani, Mr Adityanath requested for a piece of land to be alloted near the 'Statue of Unity' at the 'Ek Bharat, Shrestha Bharat Complex', so that a grand Uttar Pradesh Bhawan could be built, a senior UP government official told news agency PTI.
He added that in the letter, Mr Adityanath said Mr Rupani's proposal of allotment of land to various state governments, for the construction of pavilions of various states under the complex was a welcome step.
"I congratulate you for this... I would like to inform you that I had taken an initiative in this regard and had requested for allotment of the piece of land," the Uttar Pradesh chief minister said.
He also asked the Gujarat chief minister to inform the UP government about the allotment of land so that it could start construction work on a priority basis.
The letter was written about two weeks ago, the official said.
"The allotment of land to UP depends upon the availability of land (there). A world-class memorial on Sardar Vallabhbhai Patel is being constructed there. The UP Bhawan would facilitate tourists coming from Uttar Pradesh in their visit to the Statue of Unity," he added.
The request of the UP government was being processed, the official said.
An iconic 182-metre tall statue, the world's tallest, is a tribute to the Iron Man of India, is being built at the Sadhu-Bet Island, approximately 3.5 kilometres south of Sardar Sarovar Dam at Kevadia in the Narmada district of Gujarat.
The total project cost is estimated to be Rs 2,989 crore.
On September 9, Mr Rupani had said Prime Minister Narendra Modi will inaugurate the statue of Sardar Patel on the birth anniversary of India's first home minister on October 31.
On Wednesday, Haryana Chief Minister Manohar Lal Khattar accepted Mr Rupani's proposal to set up a 'State Bhavan' at Ek Bharat Shreshtha Bharat Complex' near the Statue of Unity.