Ahmedabad:
Yoga teacher Ramdev and BJP chief Amit Shah drew a record breaking crowd of 54,522 at the GMDC ground in Ahmedabad today for their 6:45 am session of yoga to celebrate International Yoga Day. Guinness, which recognises world records, handed a certificate to a beaming Ramdev and Gujarat Chief Minister Vijay Rupani, later in the day.
The yoga expert had already announced that he would attempt to break the world record for the maximum number of people gathered at a single site to do yoga. Ramdev had to best the 35,984 recorded in Delhi in 2015, when he had joined Prime Minister Narendra Modi to celebrate the first International Yoga Day.
"Today is the most important day for me, as more than three lakh people performed yoga at one place to set a new world record. We have broken the previous world record, which was set in the presence of our PM, by a huge margin," Ramdev told reporters after the event.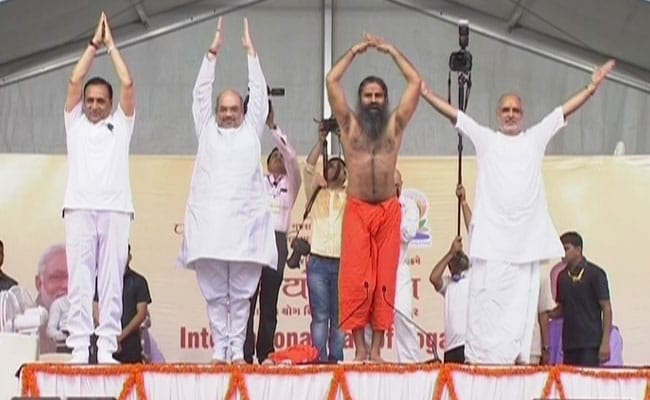 Gujarat government officials said almost three lakh people gathered this morning in and around the GMDC ground to do yoga. Guinness, however, acknowledged only the number that participated at the single location, which was good enough.
In Lucknow, where PM Modi led celebrations this year at the Ambedkar Sabha Sthal, thousands joined him in a 20 minute yoga session in the rain.
The Ramdev session in Ahmedabad was longer with Amit Shah and Vijay Rupani performing asanas on stage with the yoga teacher for around an hour. Gujarat Deputy Chief Minister Nitin Patel, former Chief Minister Anandiben Patel, several other political leaders, senior bureaucrats and police officials and high court judges joined in.
Mr Shah thanked PM Modi for making Yoga popular across the globe. "Though India was trying hard to make yoga popular across the globe since 2011, we got success after the United Nations accepted Modiji's proposal in 2014 and declared June 21 as the World Yoga Day. Since then, the popularity of yoga is increasing across the world rapidly," the BJP chief said.