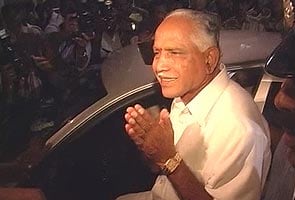 Puttaparthi/Bangalore:
After keeping the BJP's top brass on tenterhooks, Karnataka Chief Minister B S Yeddyurappa, facing the threat of being axed on alleged land scams, today left for Delhi to meet party leaders who have summoned him for parleys.
Yeddyurappa, who had ignored the party summons on Sunday to be available at Delhi for consultations, travelled from Puttaparthi in Andhra Pradesh in a special flight to Delhi along with Prime Minister Manmohan Singh, who was also there to participate in the 85th birthday celebrations of Sri Satya Sai Baba, BJP MLC, Lehar Singh, a close aide of Yeddyurappa, told PTI.
Lehar Singh said Yeddyurappa would meet BJP President Nitin Gadkari, who has been authorised by the party to take a call on his remaining in office.
Yeddyurappa has come under increasing pressure to quit after the alleged land scams involving his family members surfaced, amid indications that the party's central leadership has asked him to step down.
The Chief Minister has, however, kept the party guessing on his moves.
Yeddyurappa has reportedly told the party leadership that his removal might harm the first ever BJP government in the South, for whose formation he had played a key part.
Some senior leaders, however, dismissed suggestions that he can bring down the government.
Yeddyurappa has already deputed a team of his loyalists, including Home Minister R Ashok, a prominent Vokkaliga leader, Higher Education Minister V S Acharya, a probable to replace the Chief Minister in the event of his exit, and some others to Delhi to persuade the party against change in leadership.