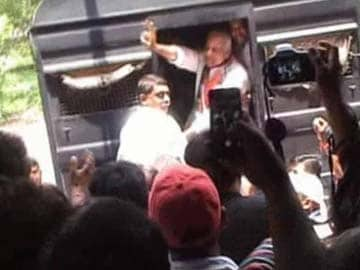 Hazaribagh:
Senior BJP leader Yashwant Sinha had to spend the night in a local jail after a court in Jharkhand's Hazaribagh sent him to 14-day judicial custody over the assault on an officer of the State Electricity Board while leading a demonstration against power cuts.
Mr Sinha had earlier refused to take bail in the case.
Upset over the 10-hour-long power cuts every day, the local unit of the BJP, led by Mr Sinha, had held protests in Hazaribagh on Monday.
Members of the BJP women's wing had also tied up and paraded a senior official of the Jharkhand State Electricity Board. The official was rescued by policemen, who detained the senior BJP leader and arrested 50 party workers.
Mr Sinha had admitted in court on Tuesday that the official was tied up on his orders. The BJP leader, who had the option of furnishing a bail bond before the local court and going free, refused to do.
The protests led by Mr Sinha have put the spotlight on the abysmal power situation in Hazaribag and other places across Jharkhand.
Jharkhand is currently ruled by an alliance government of the Congress and the Jharkhand Mukti Morcha. With summer temperatures soaring to above 40 degrees in most places, power cuts have become the norm across the state.
Towns like Hazaribag, Bokaro and Dumka -- former Chief Minister Shibu Soren's Lok Sabha constituency -- are the worst affected.
Assembly elections in Jharkhand are due this year, and the current power crisis has given Mr Sinha an opportunity to establish himself in state politics ahead of the polls.