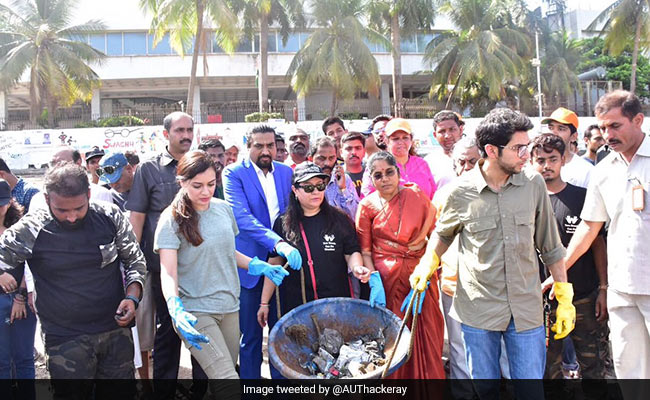 Mumbai:
Mumbai is celebrating World Earth Day 2018 by stepping up its effort to clean its beaches and control the marine pollution caused by plastic. Shiv Sena leader Aditya Thackeray and actor Dia Mirza spent over an hour at Dadar beach to support a movement that took inspiration from
lawyer Afroz Shah's massive clean up effort
at Versova beach, which recently saw the return of Olive Ridley turtles after nearly two decades, following the cleanup job.
The attempt by volunteers at Dadar beach is to recreate what
Afroz Shah has done with Versova Beach,
which is now an internationally renowned effort with the United Nations Environment Programme supporting and recognising it. Mr Shah, a lawyer by profession, who had started with a small bunch of volunteers, went on to lead a huge group of people who would spend their weekends removing tonnes of plastic from the beach.
With the Bandra-Worli Sea Link on the horizon, close to a hundred volunteers joined Mr Thackeray and Dia Mirza to spend time removing plastic from the sand, which is a time consuming process. "As we pick up the litter we have to ensure we don't go on littering. We have to break the cycle and I think we have started breaking the cycle. We have started putting our responsibilities on people like Afroz and take on this responsibility ourselves," Aaditya Thackeray, who has led a political effort to ban the use of single use plastics in Maharashtra, told NDTV.
"Today is Earth Day and I am joining Chinu who has started beach warriors after being inspired by Afroz Shah. I hope there are more such citizens movements for Mumbai and other places because this work shows that the waste we create, especially plastic, goes into the sea through our rivers and drains. This is causing massive pollution and affecting entering our food chain," Dia Mirza said appealing people to stop using plastics.
"Today is earth day and let's celebrate it like our birthday," Dia Mirza said as several Mumbaikars took a pledge to remove plastic from their lives and plant trees.
Several NGOs like Earth Day Network also joined the effort with the aim of extending the campaign across the length and breadth of the country, to annually reach 35 million people
With the 50th anniversary of the first Earth Day in 2020 approaching, World Earth Day Network is also launching an ambitious set of goals to shape the future of 21st century like planting 7.8 billion trees by 2020, one for every person on Earth. Taking that effort forward one step at a time, both Aaditya Thackeray and Dia Mirza also planted trees to create more greenery in a city like Mumbai. Several other bodies like CREDAI-MCHI and Mission Green Mumbai have also joined this effort.