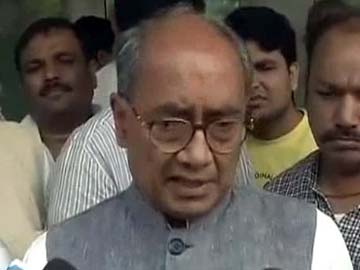 New Delhi:
Mounting fresh attack on Narendra Modi and the Bharatiya Janata Party (BJP), Congress general secretary Digvijaya Singh today said he won't allow "Hindu version of Taliban" to succeed in India.
"I hate all those who advocate Ideology of Hate including Taliban and I won't allow the Hindu version of Taliban to succeed in India," Mr Singh said on Twitter.
Taking a dig at Mr Modi for attempting to "hijack" the legacy of Sardar Patel, the senior Congress leader said he was expecting that BJP's prime ministerial candidate will some day proclaim Chandrashekhar Azad and Bhagat Singh "as RSS Pracharaks".
Mr Singh also wondered whether the Gujarat chief minister was "ditching" RSS icons in the process of "hijacking" Patel's legacy.
Congress has accused Modi and BJP of trying to appropriate the legacy of Patel noting that any attempt to "communalise" Patel or make the freedom fighter the icon of "communal forces" will be denigarting him.
"Is Narendra Modi ditching RSS Icons Golwalkar , Dindayal Uppadhyay & Shyamaprasad Mukharji ? Now trying to hijack Patel's legacy ?," Singh commented on Twitter.
Mr Singh, who had earlier ridiculed Mr Modi over his knowledge of history over the BJP's leader's "gaffes" during a rally in Patna recently, also tweeted "Expecting Modi to claim Chandrashekhar Azad & Bhagat Singh were RSS Pracharaks and India got freedom because of RSS !
"Cant blame Modi. This is what RSS indoctrinates its Cadres ! History as RSS sees it !"
Mr Singh, who is a known detractor of Mr Modi, however, refrained from making any comment on iconic singer Lata Mangeshkar praising him in Pune yesterday.
"Lata Mangeshkar is our Indian Icon and she is entitled to her Political Views. We all love her songs," Mr Singh said in his tweet.