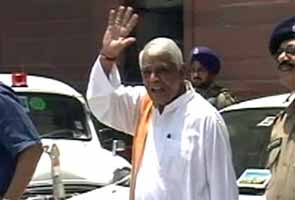 Sagar:
After Madhya Pradesh Minister Kailash Vijaywargiya drew flak for 'laxman rekha' remark, his senior colleague Babulal Gaur on Sunday said 'foreign culture' of women wearing jeans and T-shirts, drinking liquor and dancing with other men is not good for India.
"Women in foreign countries wear jeans and T-shirts, dance with other men and even drink liquor, but that is their culture. It's good for them, but not for India, where only our traditions and culture are ok," Urban Administration & Development minister Gaur said when asked about controversies over women's dress.
However, he said, "Let women consider what is good and bad for them".
The minister arrived in Sagar to lay foundation stone for developmental works being carried out under the Chief Minister's Infrastructure Development Scheme.
Recently, Madhya Pradesh Industries Minister, Kailash Vijaywargiya had drawn flak for advising women not to cross their "Laxman rekha".