Ajmer:
Union Minority Affairs Minister Mukhtar Abbas Naqvi today offered the ceremonial
'chadar'
at Sufi Saint Khwaja Moinuddin Chishti's shrine in Ajmer on behalf of Prime Minister Narendra Modi.
The Urs festival is an annual festival held at Ajmer which commemorates the death anniversary of the Sufi saint Khwaja Moinuddin Chishti. It is held over six days and features night-long qawwali and various religious ceremonies. Thousands of pilgrims visit the shrine from all over India and abroad during the Urs.
Prime Minister Narendra Modi had handed over the
'chadar'
to Mr Naqvi on Saturday to be offered at the shrine. Huge crowds had gathered at the dargah premises to see the
'chadar'
being offered. Elaborate security arrangements have been made at the dargah.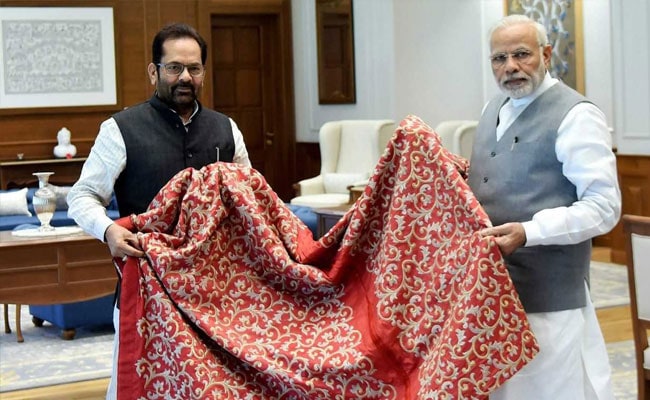 In a message, PM Modi conveyed his greetings to the followers of the Sufi saint in India and abroad. He also wished for "harmonious co-existence of cultures" and said that "Peace, unity and harmony is at the core of various philosophies in the country, Sufism is also one of them. When we talk of Sufi saints in India, Khwaja Moinuddin Chishti appears as a symbol of great spiritual traditions."
Two dozen LCD screens were installed in and around the dargah where PM Modi's video message was aired, according to IANS reports.
Terrorism is the biggest enemy of both Islam and entire humanity. This message is at the core of principles and teachings of great Sufi Saint Khwaja Moinuddin Chishti. pic.twitter.com/EVEBikBL1j

— Mukhtar Abbas Naqvi (@naqvimukhtar) March 19, 2018
Mr Naqvi said that said terrorism was the biggest enemy of Islam and the entire humanity. We need to strengthen the fabric of social harmony and unity.
Mr Naqvi also inaugurated a 100 toilet-complex, constructed by the Ministry of Minority Affairs, at "Vishramsthali" on Kayad road near the Dargah.