New Delhi:
Highlights
Ashraf Ghani proposed the corridor to PM Narendra Modi in 2016
The corridor aims to boost India-Afghan trade to $1 billion in 3 years
Afghanistan depends on Pakistan's Karachi port for its foreign trade
An aircraft packed with 60 tons of asafoetida, or hing, marked the opening of the first air cargo corridor between Afghanistan and India today. External Affairs Minister Sushma Swaraj has received the plane.
The cargo, worth about $6 million dollars, was the first in what officials from the two countries hope will be many flights allowing Afghan and Indian companies to bypass Pakistan, which strictly limits the shipment of goods by land between India and Afghanistan, often as part of border disputes.
Afghanistan depends on the Pakistani port of Karachi for its foreign trade. It is allowed to send a limited amount of goods overland through Pakistan into India, but imports from India are not allowed along this route.
The new air corridor aims to boost trade between India and Afghanistan from $800 million to $1 billion in three years. While it bypasses Pakistan, necessary overflight permissions have been taken, though that allows the possibility of Islamabad acting as spoiler if it wants.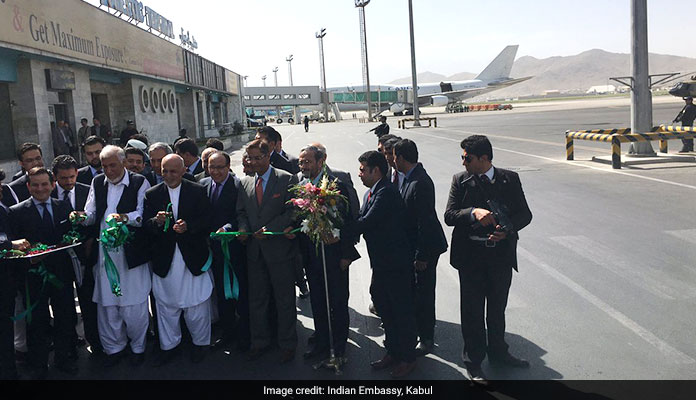 Afghan President Ashraf Ghani first proposed the air corridor in September last year in a meeting with Prime Minister Narendra Modi; details were worked out when both attended a regional summit in Amritsar in December.
The cargo service aims to improve landlocked Afghanistan's links to markets abroad and boost the growth prospects of its agricultural and carpet industries while it battles a deadly Taliban insurgency, Indian officials have said.
"We will continue to assist you in various ways as this corridor expands and grows into a network of cargo flights as per demand of the market," India's ambassador to Afghanistan, Manpreet Vohra, told President Ghani.
Get Breaking news, live coverage, and Latest News from India and around the world on NDTV.com. Catch all the Live TV action on NDTV 24x7 and NDTV India. Like us on Facebook or follow us on Twitter and Instagram for latest news and live news updates.