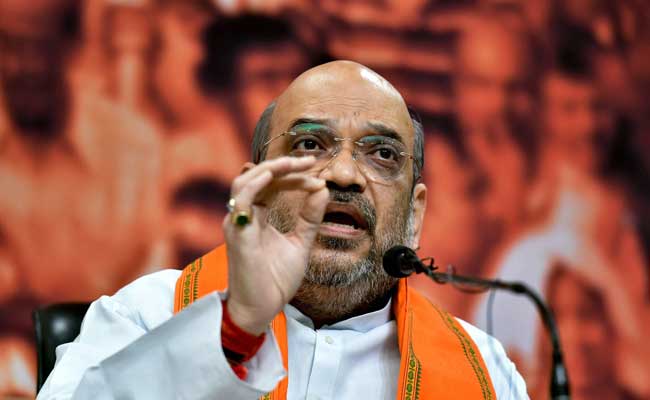 New Delhi:
BJP president Amit Shah will begin his two-day Tripura visit today to lay the groundwork for the party's expansion in the northeastern state the Left has ruled for the last 19 years.
Mr Shah, the architect of several electoral victories of the BJP, is likely to flag alleged lack of development of the state under the Left government and violence against his party workers.
Tripura, with only two Lok Sabha seats, may not be electorally crucial to the BJP's fortunes at the national level but the state now figures high on Mr Shah's priority list as assembly polls there are due next year.
The BJP chief, known for his aggressive brand of politics, was instrumental in salvaging Goa for the party earlier this year when it had finished second after Congress in the assembly election, and neither party got a majority.
He had quickly dispatched Union minister Nitin Gadkari to cobble together a majority with the help of smaller regional parties and managed to form a BJP-led government in the tiny coastal state.
Mr Shah will take stock of the party's organisational work in meetings with state BJP leaders and hold a public rally on Sunday.
With the BJP and RSS activists allegedly at the receiving end of violence by the ruling Left, traditionally seen as an ideological foe by saffron groups in Kerala and Tripura, the BJP chief has been devoting considerable time to strengthen the organisation in the two states.
Having forfeited security deposit in 47 of the 50 seats it contested in Tripura in the 2013 assembly election, the BJP has increased its vote share and its candidates finished second to winning CPI-M nominees in three bypolls held there since.
BJP leaders claim the party has emerged as the principal challenger to the Left and pointed to the recent defection of a top Trinamool Congress leader and some others to the party.
Less than a week after the BJP formed government in neighbouring Manipur, virtually the entire state unit of the Trinamool Congress in Tripura had joined the BJP.
The revolt was led by Ratan Chakrabarty, chairman of the state TMC coordination committee. Mr Chakrabarty had joined BJP with 15 other members of the state committee.