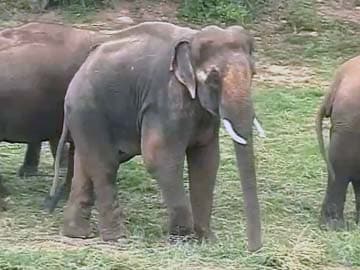 Bangalore:
Big, Grey and Smiling. Sunder, the former temple elephant is an unlikely celebrity with friends ranging from the Big B to rock legends.
But his international fame had come at a horrific cost. Sunder was filmed suffering abuse at the hands of his mahout at a temple in Maharashtra.
When the video of abuse found its way online it resulted in a barrage of outrage from animal lovers. International celebrities, From Amitabh Bachan to Sir Paul McCartney and former Baywatch actress Pamela Anderson joined a campaign to free Sunder.
The campaign finally resulted in his being moved to the Bannerghatta National Park outside Bangalore in June. Now, a month on, NDTV revisited Sunder in his new home, to find him happy and adjusting beautifully to his new home and new elephant family.
While Sunder's story is one of the most depraved human abuse - but it is also an example of human compassion and concern.
When we first met him in early June,the day he arrived here in Bannerghatta near Bangalore, he was stressed and uncertain, after a long road journey from Kolhapur. Now, in a new home, he is a changed elephant.
The 15 year old elephant was treated for the wound caused by constant chaining and is now allowed to spend more time with the other captive elephants - and wander with them during their trips outside their enclosure.
He is getting used to a new diet - and new languages. From commands in Marathi, he now responds to Kannada and Hindi.
The Assistant Conservator of forests at the Bannerghatta National Park told NDTV ,"He has taken to the food in Karnataka ... Ragi mudde and fodder grass. Because of that, he is very healthy. He has special friends (among the group of captive elephants). He now has a girlfriend named Lakshmi."
This reporter got a trunk blessing from Sunder - a reminder of his past as a temple elephant. But he is learning new things - like how to be an elephant - from his new friends.
Carol Buckley of Elephant Aid International - and elephant expert - was at the park, watching Sunder interact with the other elephants and play in a lake to which they had all been taken.
She told NDTV, "He's doing fabulous. He is so relaxed. He is very comfortable with all of these elephants, 14 other elephants, and as you can see, he's close friends with many already. I believe it's a good recovery, because he has now behavior that he has to learn, he has to learn how to be an elephant in a very healthy social situation. But he has close friends now that are teaching him. He is happy now, very happy."
We watched Sunder playing in the lake with his girlfriend and other elephant friends - and have every reason to believe that for this beautiful young elephant, the dark days are finally gone - and the bright days are here.