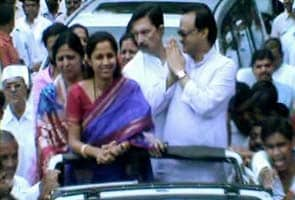 Mumbai:
NCP leader Supriya Sule today snapped back at a reporter when asked about a party meeting which might have discussed whether her cousin and Maharashtra Deputy Chief Minister Ajit Pawar should resign for his controversial comments about urinating in a dam to fill it up. "Mind your own business," she said.
The Opposition, BJP and Shiv Sena, has stalled the proceedings of the Budget session of the state assembly for three days demanding Mr Pawar's resignation. "It is unfortunate that Ajit Pawar is being targeted by Opposition leaders... I've full confidence in Dilip Walse-Patil's (Speaker of Maharashtra's Assembly) abilities. He will handle the deadlock," said Ms Sule.
Meanwhile, Maharashtra Pradesh Congress Committee president Manikrao Thakre said that ally NCP has to take a call on the demand for Mr Pawar's resignation. "It is for the NCP to take a decision," he said when asked if Chief Minister Prithviraj Chavan will ask his deputy to quit.
On Monday, Mr Pawar walked into a controversy by dismissing a farmer's two-month-long protest and sarcastically asking if leaders should urinate to fill up a dam he is demanding water from. "There is this person from Solapur, sitting on hunger strike for 64 days demanding water be released from the dam. But where are we going to get water from? Should we urinate? And when we don't have water to drink, it's hard to pass urine as well," Mr Pawar had said.
After facing severe criticism, Mr Pawar had apologised saying it was "the biggest mistake of my political life."