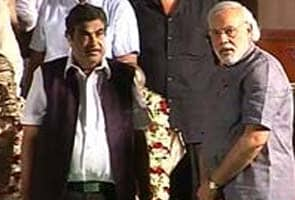 New Delhi:
The BJP is likely to declare in a few hours that despite a very public and high-decibel revolt today, the party stands by its president,Nitin Gadkari, and that he will remain in office till December when his term expires.
Mr Gadkari is combating charges of financial improbity. In the sudden surge of dissent lie the attempts of other A-listers from his party to position themselves as his replacement, and to recalibrate power within the BJP by reallocating important posts.
The camps who are backing or fighting Mr Gadkari are motivated not by the president, but by calculations of who will replace him. Chief Minister Narendra Modi is poised to comfortably deliver Gujarat to the BJP in December, a victory that will make it tough for the party to wriggle out of giving him the prize he covets- being its candidate for prime minister. Those who are throwing their weight behind Mr Gadkari believe that will check Mr Modi's ascension to the national stage- a promotion that would atrophy their own ambitions for a starring role.
(Read: What's at stake for Narendra Modi)
Those who support Mr Gadkari include Sushma Swaraj and LK Advani, who he met with today. The president's detractors were led forcefully by Rajya Sabha MP Ram Jethmalani, known for his proximity to Mr Modi. In
a letter to Mr Advani on November 2
that was made public today, Mr Jethmalani said that he was supported by three BJP stalwarts -Yashwant Sinha, Jaswant Singh and Shatrughan Sinha- and that together, they were considering "bidding goodbye" to the party over its defense of Mr Gadkari.
The BJP's ideological mentor, the RSS, who thrust Mr Gadkari upon the party as its president in 2009, staged an intervention, assigning the role of mediator to S Gurumurthy, who spent his day meeting with senior BJP leaders and Mr Jethmalani.
(Read: Jethmalani tones down his attack, BJP to standby its president)
The RSS has called for "an impartial probe" to verify the charges against Mr Gadkari but also warned over the weekend that "the president will not be removed as the result of any sort of conspiracy."
Sources say that Mr Gadkari had also earlier presented him with a detailed defense refuting the charges against him and that Mr Gurumurthy found his explanation satisfactory and is now sharing that opinion with different factions of the BJP.