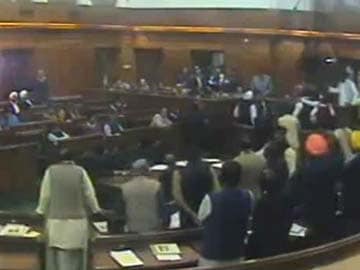 New Delhi:
Nothing is impossible, the Supreme Court said today, as it asked the BJP and the Congress whether they could "join hands" and form a government together in Delhi.
The court asked both parties to explore the possibility and issued them notice, while hearing an Aam Aadmi Party petition challenging President's rule in Delhi.
AAP told the court that the Delhi assembly had been kept in suspended animation to facilitate defections between the two parties.
Delhi has been under President's rule since last month, after AAP leader Arvind Kejriwal resigned as Chief Minister over his pet anti-graft Jan Lokpal Bill. Mr Kejriwal has accused the BJP and the Congress of ganging up in the Delhi assembly to block his bill.
The Supreme Court said, "For the Jan Lokpal Bill, both the BJP and Congress came together. It indicates that Congress and BJP can join hands and form a government. What happened in the Delhi assembly clearly indicates that nothing is impossible. Even two parties which do not meet on any platform can still meet on some platform. There are no permanent enemies in politics. Today's enemy can be tomorrow's friend and best friend."
The ball is now in the court of two parties that are ranged against each other in the most intense and politically charged poll battle that India has seen in recent times.