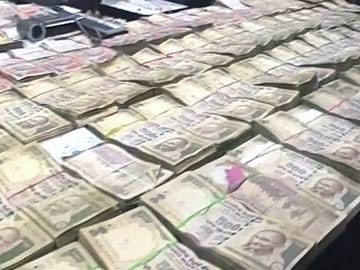 Patna:
A senior BJP leader from Bihar may soon have to explain to the police why more than a crore was allegedly found in cash at his home. Giriraj Singh delivered a marquis controversy of the recent national election when he infamously declared that critics of his party's Narendra Modi, then running for prime minister, should move to Pakistan.
Mr Singh's apartment in the state capital of Patna was robbed on Monday afternoon. Four men have since been arrested and have surrendered the cash and a panoply of expensive wrist-watches and jewelry.
Patna Senior Superintendent of Police Manu Maharaj told reporters that the suspects say the money and valuables were taken from the home of Mr Singh, who is 61.
He said the accused were found because teams patrolling important roads saw men traveling in an auto-rickshaw with four large suitcases.
The police said at a press conference today that it will now determine whether the cash allegedly taken from Mr Singh's home belongs to him. They say that the politician's complaint did not peg a value to the items that had been thieved. According to papers filed by Mr Singh for this election, he has a little over two lakhs in cash.
During the campaign for the recent national election, Mr Singh refused to apologise for suggesting that Mr Modi's opponents would do well to relocate to Pakistan since his victory was guaranteed. He refused to apologise for his statement despite being found guilty of hate remarks by the Election Commission.