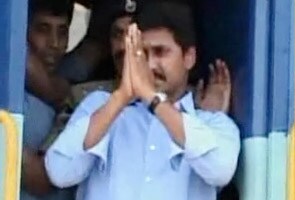 Hyderabad:
Thrust into political limelight after the death of his father YSR in an air crash last year, Yeduguri Sandinti Jagan Mohan Reddy never hid his ambition to become the Chief Minister of Andhra Pradesh, fuelling troubles for both the faction-ridden state Congress unit and party high command with his defiant attitude.
From a businessman to a Lok Sabha MP from his family pocketborough of Kadapa, his rise was meteoric -- thanks to his father late YS Rajasekhara Reddy's legacy and his popularity in Andhra Pradesh.
The 37-year-old, who maintained a low profile till his father's death despite becoming an MP, was forced to plunge into active politics by his father's supporters in the party.
Called 'Jagan Anna' by his followers, he drew crowds and used his powerful media, a 24-hour news channel and a mass circulation newspaper, to propagate his views and attack the Rosaiah government that took charge after YSR's death.
There was a campaign to install him as the Chief Minister after his father's death on September 2, 2009. Jagan also never said publicly that he was not in the race to succeed YSR.
Jagan was maintaining silence till he was told by Sonia Gandhi that she will decide the next chief minister of Andhra Pradesh in October last year and started embarrassing the High Command whenever he got a chance.
A successful businessman who built a media empire in just five years, Jagan Mohan wanted instant results. His impatience reflected in his open use of his media to flay the functioning of Rosaiah government and siding with TDP MPs in Parliament against the formation of a separate Telangana state.
After getting ample hints that the Congress High Command is in no mood to anoint him as YSR's successor, Jagan undertook the controversial 'Odarpu Yatra' to console the families of those who died or allegedly committed suicide after hearing the news of the death of his father.
When he decided to tour sensitive Telangana region, the high command asked him not to do so fearing backlash. But Jagan went ahead with the yatra and reached Mahabubnagar. When
violence erupted there, he was forced to return to Hyderabad.
From then, Jagan was defiant and just met Congress chief Sonia Gandhi once after that.
He defied her directives, went ahead with Odarpu Yatra in July 2010 and has been avoiding visiting Delhi since then.
Just a fortnight ago, his Sakshi channel launched an attack against Sonia Gandhi, Prime Minister Manmohan Singh and Congress. The party had expressed strong disapproval of the TV programme but no action was taken against him.
Before entering politics too, Jagan had his fair share of controversies. The allotment of 487 acres of land in March 2007 to Raghuram Cements, which had Jagan as one of its directors, was criticised by the opposition parties.
Jagan tops a list of taxpayer politicians in 2009-10. He had paid Rs 2.92 lakh tax for financial year 2008-09 but Rs 6.6 crore advance tax in the first six months of this year, projecting a tax outgo of Rs 22 crore with his personal income expected to cross Rs 70 crore in 2009-10.
Get Breaking news, live coverage, and Latest News from India and around the world on NDTV.com. Catch all the Live TV action on NDTV 24x7 and NDTV India. Like us on Facebook or follow us on Twitter and Instagram for latest news and live news updates.