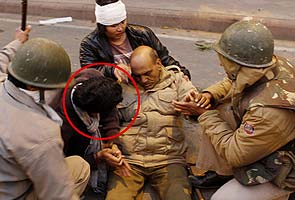 New Delhi:
A grim headline of the recent violent protests in Delhi has been the death of constable Subhash Tomar, who fell to the ground while the police clashed with thousands of demonstrators on Sunday, who were demanding tougher anti-rape laws and better safety for women in Delhi after the gang-rape of a young student on a moving bus.
But how the 45-year-old died has now become the insalubrious point of dispute between the police and the demonstrators; The Ministry of Home Affairs has asked the Delhi Police to submit a detailed report on the circumstances in which Mr Tomar was killed, and the case has been assigned to the Delhi Crime Branch.
The controversy comes as Mr Tomar's family is trying to cope with its grief. His young son, Deepak, is in Haridwar today to perform the constable's last rites. Mr Tomar died early last morning and was cremated with full state honours.
The police says that Mr Tomar was injured severely in the protests; a section of demonstrators allege that this accusation is to combat charges of the lack of restraint shown by the cops while they used batons, tear-gas and water cannons to dispel the protests.
Much of the argument over what killed Mr Tomar is based on doctors sharing that he had no major external injuries when he was admitted to the Ram Manohar Lohia (RML) Hospital. "The constable had no major external injury marks when he was brought to the hospital," said Dr.PS Sidhu today.
However, police commissioner Neeraj Kumar said yesterday that doctors had informed him that Mr Tomar had injuries on his head and neck, and that he died of serious internal injuries.
Sources say that the Home Ministry believes that the police must wait for the post-mortem report before discussing any details of Mr Tomar's death.
Doctors who treated Mr Tomar for two days say that by the time he was brought to their hospital, he had gone through a heart attack. They also stress that a cardiac arrest could have been brought on by internal injuries or the stress of confronting protestors, and that only a post-mortem report will clearly outline the cause of death.
A man named Yogendra Tomar told NDTV India last night that he was among the protestors nearest to Mr Tomar when the constable doubled over. Yogendra belongs to the Aam Admi Party, headed by Arvind Kejriwal. He alleges that he was ignored when he asked other policemen to summon a van urgently to move Mr Tomar to hospital (a photograph shows him trying to assist the constable). Yogendra says he then phoned for an ambulance and accompanied Mr Tomar, along with other policemen to hospital.
(Constable Tomar was running behind crowd when he collapsed: Eyewitness)
Eight people including some from the Aam Admi Party have been charged with inciting violence and riots during the weekend's protests.