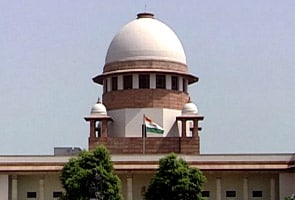 New Delhi:
The term "passive euthanasia" used by the Supreme Court in its verdict on Aruna Shanbaug's case is defined as the withdrawal of medical treatment with the deliberate intention to hasten a terminally ill-patient's death.
Various medical and legal dictionaries say passive euthanasia is the act of hastening the death of a terminally-ill patient by altering some form of support and letting nature take its course.
Passive euthanasia can involve turning off respirators, halting medications, discontinuing food and water so the patient dies because of dehydration or starvation.
Passive euthanasia can include giving the patient large doses of morphine to control pain in spite of the likelihood that the painkiller can cause fatal respiratory problems.
Active euthanasia involves helping the patient to die on the basis of a request by either the patient of those close to him or her, usually direct family members.
A well-known example of active euthanasia is the death of a terminally ill Michigan patient on September 17, 1998. On that date, Dr. Jack Kevorkian videotaped himself administering a lethal medication to Thomas Youk, 52, who suffered with amyotrophic lateral sclerosis.
CBS broadcast the videotape on 60 Minutes less than a week later. Authorities subsequently charged Kevorkian with first-degree premeditated murder, criminal assistance of a suicide, and delivery of a controlled substance for administering lethal medication to a terminally ill man.
There was no dispute that the dose was administered at the request of Youk, nor any dispute that Youk was terminally ill. A jury found Kevorkian guilty of second-degree murder in 1999. He was sent to prison.