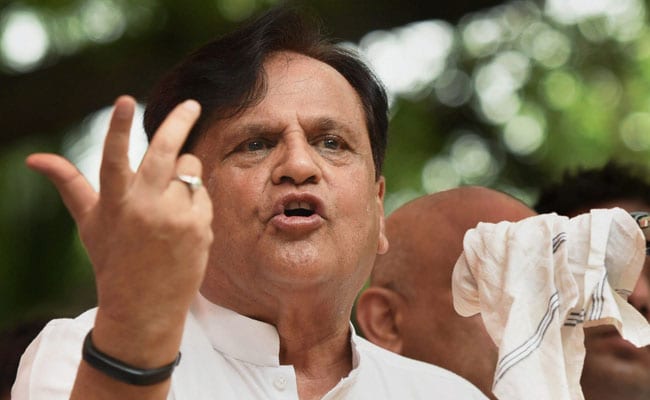 Ahmedabad:
The all-out attack by the BJP on Ahmed Patel
, the high profile political secretary of the Congress president Sonia Gandhi, is a sign of the shift in the party's strategy ahead of state elections in December, political observers in the state say. The assault indicates a subtle switch to a hardline terror and nationalism agenda, away from the developmental line so far toed by the Gujarat BJP, they say.
Chief Minister Vijay Rupani had alleged yesterday that one of two ISIS suspects arrested by Gujarat anti-terrorism squad had worked in a hospital where Mr Patel was a trustee.
The Congress and the hospital authorities have denied any links between Mr Patel and the trust that runs the hospital.
The Congress has alleged that the attack betrays a polarisation bid by the ruling BJP ahead of elections. "It's nothing but an attempt by the BJP to cover up its failure. Since they have not performed, they are now resorting to such tactics," said Congress spokesman Ranjit Surjewala.
But the BJP has denied electoral reasons behind targeting Ahmed Patel. "It's not like that. Even if elections would not have been there, we would have raised it. This is an issue related to national security and has nothing to do with politics," said Vijay Rupani at a press conference.
Political analysts however say there could multiple factors behind the BJP's targeting of Mr Patel.
"He is a arguably the only strong Muslim face in the Gujarat Congress and had managed to win his Rajya Sabha seat despite odds against him. Amit Shah himself had spearheaded the attempts to scuttle his elections. So he obviously becomes there target No 1 now," said political commentator Dinesh Shukla.
Despite the BJP's denial, an online attempt to cash in on the issue politically is quite evident. Flyers asking "Is the Congress with terrorists" are being endorsed by state BJP leaders. Also hashtags like 'CongressWithTerrorist' are trending online.