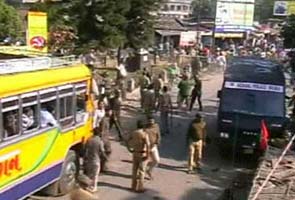 Kolkata:
One person has been killed and another injured, allegedly in police firing at Tehatta in West Bengal's Nadia district this morning.
NDTV has obtained video footage from local channels which show policemen on rooftops firing into the crowd. Police are required to shoot below the knee as a last resort, after exhausting all options like teargas and rubber bullets.
Initially, police had denied firing at the farmers. Additional Director of Police (Law and Order) Mr Surajit Kar Purakayastha told NDTV that though "something had happened," it was not clear yet if police opened fire.
This is second time in two weeks that police have been accused of firing into protesting crowds. The last time, it was in Birbhum, where farmers say police shot at them for protesting acquisition of land. There too, police as well as the state government denied that police had fired, but the local police chief was transferred and an inquiry ordered.
At Nadia, trouble started around 8 this morning when some people blocked a road protesting the police's refusal to allow them to hold a Jagaddhatri Puja at a particular location. Police first lathicharged the crowd, the crowded brick-batted the police and set at least two police vehicles on fire after which the police allegedly opened fire. The situation there continues to be on the edge.