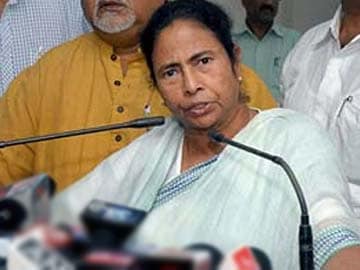 Kolkata:
The Mamata Banerjee-magic continued to overwhelm West Bengal with the Trinamool Congress (TMC) winning three of the five municipalities that went to polls last week and leading in Howrah Municipal Corporation during counting being held today.
The Trinamool Congress swept in Jhargram and Krishnagar and retained Medinipur, and won a couple of seats for the first time in Congress leader Adhir Chowdhury's bastion Baharampur.
While the TMC snatched Jhargram from the Left Front, it retained Medinipur and Krishnagar.
In Krishnagar, the TMC won 22 of the 24 seats, while the rest two wards went to independents. In Medinipur, TMC won 13 of the 25 seats, while the Left Front and the Congress managed to get four seats each and the BJP got one. Results for remaining three seats were yet to be declared.
The CPI(M)-led Left Front was dislodged from Jhargram in the once-Maoist infested West Midnapore district after three decades by the TMC, winning 16 of the 17 seats which went to polls, while the Left Front managed one seat.
In Baharampur Municipality, which is the headquarter of Murshidabad district, the TMC won two wards for the first time, where the Congress won 23 of the 25 seats.
In 2008, the results were 25-0 in favour of the Congress in Baharampur.
Reacting to the results, Minister of State for Railway Adhir Chowdhury said in Baharampur, "the existence of the party has come under question. The party leadership should take immediate steps to reverse the situation".
He, however, refused to give credit to the TMC for winning two wards in his backyard.
"The candidates won owing to their own calibre," he said about his one-time close associates Kanai Roy and Pradip Nandi who emerged victorious on TMC ticket in wards 3 and 5 respectively.
The Left Front was not in good shape as counting progressed in the prestigious Howrah Municipal Corporation, which it held since 1984, with the TMC winning nine of the 12 seats declared so far of a total of 50 wards.
Howrah's Mayor Mamta Jaiswal of CPI(M) has lost to BJP's Gita Roy in a four-cornered contest, while Deputy Mayor Kaberi Moitra of CPI lost to TMC candidate Sabitri Devi Shaw. Of the 29 wards in 23 municipal bodies, including two in Kolkata Municipal Corporation, which went for by-elections, TMC was reported to be leading in most.