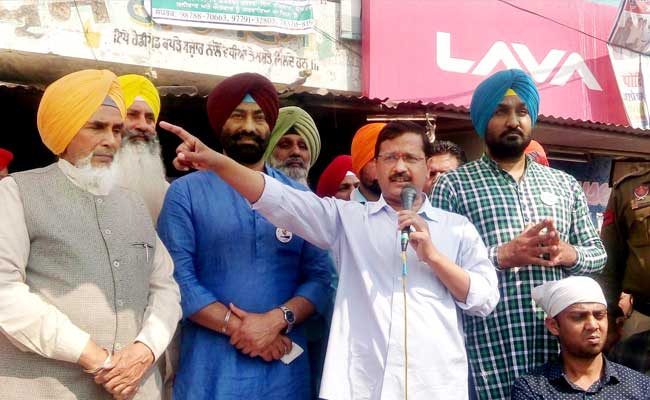 Phagwara:
Aam Aadmi Party (AAP) chief Arvind Kejriwal tonight said on coming to power his party would make Punjab the best investment destination in the country.
He was addressing a meeting of NRIs at Chiheru village, 7 kms from Phagwara, organised jointly by India Canada Village Improvement Trust president GS Gill and Canada's former Cabinet Minister Herb Dhaliwal. NRIs from Canada, the US and the UK attended it, among others.
Asserting that his party will give a "proper platform" to NRIs, Kejriwal termed them a traditional support base of AAP and said they should support the party in forming government in Punjab as they had helped during Delhi Assembly and Lok Sabha elections.
"We are starved of funds. You have supported us in the past. Support us financially to contest 2017 assembly polls in Punjab," the Delhi chief minister said.
He said AAP would make Punjab so attractive that NRIs would long to come back. "Punjab will really be another California," he said.
He said once the AAP government was formed, it would not require extra money but judicious, honest and optimum spending of the existing money.
Claiming a change was in the air, Mr Kejriwal said the 'mahaul' (atmosphere) was in favour of AAP and added that Punjab was going to make history by electing it to power.
Referring to the Rs 1.25 lakh crore debt on Punjab, he alleged that corruption was so rampant that only 20 per cent of the government's money was being spent on development.
Lauding the role and contribution of NRIs in development of Punjab, he called upon them to help AAP in coming to power.
Mr Kejriwal, who began his address with 'Waheguru Ji Ka Khalsa Waheguru Ji Ki Fateh', later the addressing villagers, said when a situation reaches a point of no return then "uparwala jharu chalani shuru kar deta hai (God starts sweeping to clean up the mess)."