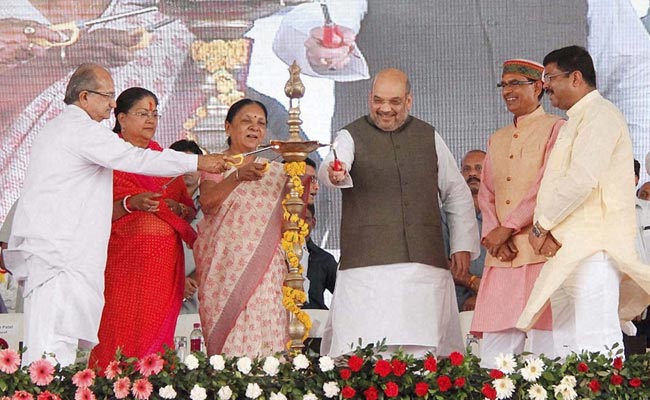 Dahod:
Congress on Sunday claimed "wastage" of huge quantity of water in preparation of the makeshift helipads for the function to launch the second phase of the 'Pradhan Mantri Ujjwala Yojana' in Dahod, at a time when the district is reeling under acute water crisis.
While BJP president Amit Shah launched the second phase of the scheme, the event was attended by many VIPs including Union minister Dharmendra Pradhan and chief ministers of three states.
However, the district administration clarified that the helipads were built using a technology wherein water was not needed.
Meanwhile, police detained former Congress MP Prabha Taviyad, sitting Congress MLAs Chandrika Bariya and Mitesh Garasiya from the region, besides around 50 of their supporters from near Gandhi Garden area where they staged a sit-in protest this morning.
"They were released in afternoon after the event ended," said Dahod superintendent of police, Manoj Ninama.
"A large amount of water was wasted for preparing helipads as VIPs like Gujarat CM Anandiben Patel, chief ministers of Rajasthan and Madhya Pradesh, BJP president Amit Shah and Union minister of Petroleum & Natural Gas Dharmendra Pradhan were scheduled to land at the venue through their helicopters," she told PTI.
Mr Taviyad said they resorted to the dharna to highlight the water crisis.
"People have to walk for almost 2 kms per day for water. Even in this situation, I learnt from others that huge quantity of water was wasted to prepare the helipads near the venue. We have not seen it as we were already barred from going there," she claimed.
However, district administration stated they took appropriate measures given the water scarcity.
"Since we already have three permanent helipads near the ground, we built only two helipads, as five choppers were scheduled to land today. Looking at the water crisis in the district, we have used bitumen to build these two helipads, as water is not needed if this material is used," said Manoj Sheth, a Dahod-based Executive Engineer of State PWD department.
He said they erected a low-level wooden platform to cover some of the tents so that "we did not have to sprinkle water to level the ground. Thus, we made sure at every level that water was not wasted to prepare the ground for this event".