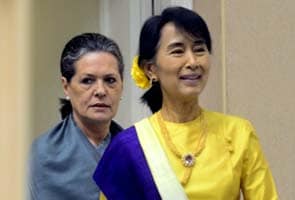 Opposition leader Aung San Suu Kyi urged India on Wednesday to stand by Myanmar on its journey to democracy, on her first trip to Myanmar's neighbour since it dropped its support for her democracy movement two decades ago in favour of the ruling junta.
Suu Kyi spent part of her youth in Delhi and was close to independence leader Jawaharlal Nehru but, after first backing her democracy movement, India began courting the junta as part of a "Look East" policy partly aimed at competing with China.
"We have not yet achieved the goal of democracy, we are still trying, and we hope that in this last, I hope, and most difficult phase the people of India will stand by us and walk by us," Suu Kyi said, in a memorial lecture for Nehru.
"I was saddened to feel that we had drawn away from India, or rather that India had drawn away from us, during our very difficult days, but I always had faith in the lasting friendship between our two countries."
India's shift in loyalties began when Suu Kyi was under house arrest in 1993. At that time, China was gaining access to energy resources in Myanmar, which is located on Indian Ocean sea routes and is at the crossroads of South and East Asia.
Under a series of democracy reforms begun by President Thein Sein last year, Suu Kyi has been allowed back into politics. Her visit to India follows trips to the United States and Britain.
The lecture was attended by much of India's current leadership and also by Nehru's great-grandson Rahul Gandhi, who may run for prime minister in 2014.
MEETING THE GANDHIS
Rahul's mother Sonia, the leader of the Congress party and perhaps India's most powerful politician, sat next to Suu Kyi, who earlier had lunch with the Gandhis and Prime Minister Manmohan Singh.
Suu Kyi also met Singh for a short time without any aides present, his office said.
She talked with Indian officials about ethnic violence in Myanmar's Rakhine state, where India is building a port, and said it needed a "firm but sensitive" approach, a senior source at the Indian Foreign Ministry said.
Suu Kyi, a devout Buddhist and winner of the Nobel Peace Prize, has refused to condemn either side in the violence between the majority Buddhist population and the Rohingya Muslim minority, prompting criticism from international human rights groups.
At least 169 people have been killed and more than 100,000 Rohingya forced from their homes since June, in what some are calling ethnic cleansing.
Official statistics say Rohingyas, who are stateless because Myanmar considers them all to be illegal immigrants from Bangladesh, make up 97 percent of the people who fled the latest bout of violence in October. A Reuters investigation found evidence that the wave of attacks was organised.
In an interview with The Hindu newspaper published this week, Suu Kyi seemed to blame the violence partly on immigration.
"For years I have been insisting, and the National League for Democracy also, that we have to do something about the porous border with Bangladesh because it is going to lead some day or the other to grave problems," she said in the interview.
© Thomson Reuters 2012