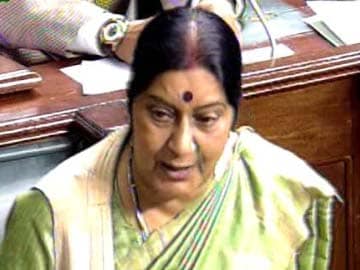 New Delhi:
The BJP's Sushma Swaraj, Leader of Opposition in the Lok Sabha, has said she was not aware of the Speaker's decision to suspend live telecast of the Lok Sabha's proceedings as it passed the controversial legislation that creates a Telangana state by bifurcating Andhra Pradesh. (
Track LIVE updates
)
The move, unprecedented since 1996 when live telecast of Parliament proceedings began, has been compared by angry lawmakers to censorship during the Emergency of the 1970s. Jagan Reddy, YSR Congress chief said, "Today we saw how democracy can be killed. It is a black day in India's history. We call for a bandh in Andhra Pradesh tomorrow."
In her first comments, Speaker Meira Kumar told NDTV, "There was a problem that is why we could not telecast proceedings." In her presence an aide explained that as a "technical problem." Live telecast ended at 3.03 pm, minutes after House reconvened to take up the Bill tabled by Home Minister Sushil Kumar Shinde. It was not restored for the rest of the day.
In the Lok Sabha, parties like the Trinamool Congress and Janata Dal (United) protested against the way the bill was being processed and passed. Dinesh Trivedi of the Trinamool walked out of the House and said, "I am more sad than angry. Today democracy has come to a standstill."
(Telangana Bill passed in Lok Sabha: Who said what)
Questions have been raised on why the BJP did not protest against what the Left's Sitaram Yechury called "an democratic manner" to pass a bill. BJP leaders in the Lok Sabha said they realised that telecast had been stopped while Ms Swaraj was speaking. She stopped speaking, but was seen signalling to members not to rise.
Samajwadi Party chief, Mulayam Singh Yadav, has strongly criticized both the Congress and the BJP for what he called "some kind of understanding" to pass a bill that divides a state without adequate debate. Mr Yechury called it "match fixing between the BJP and the Congress."
Senior ministers Like Sushil Kumar Shinde and Salman Khurshid refused comment on the blackout saying it was the Speaker's decision.
The Speaker can use her discretion to order a stop to the live telecast. Sources said Ms Kumar decided to do that to avoid a repeat of last Thursday, when Congress MP L Rajagopal used pepper spray in the Lok Sabha and other MPs yanked mics and broke a computer.
16 MPs were suspended for the violence that day and so were not present in House when it passed the bill by voice vote.