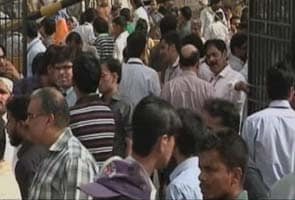 New Delhi:
We're asking you to share whether you felt today's tremors. Please stay safe and when you can, join the conversation here. These are 10 ndtv.com surfer comments (some have been shortened):

Comment by Qadeer:
I am sitting next to Burj Khalifa in Emaar Square, Dubai. We also felt the shocks here. We had similar incident few days ago when the earth quake hit Iran.
Comment by Rahul Mishra:
Hi, I was working in my office n suddenly glass door n lamp started oscillating. Felt it for 10-15 seconds in Ahmadabad.

Comment by Kiran Sharma:
We, at Ahmedabad also felt the tremors and quite strong ones. We were in a meeting at fifth floor and initially didn't realize it to be an EQ, but once it was clear, we all rushed to the ground floor. Thankfully, it wasn't that serious. Hope no damage is done to anyone.
Comment by Justin Thankachen:
Felt it here in Bahrain also!! It was almost for 30 secs and it was stronger than the tremors, last week!!
Comment by Shailesh Kumar:
Yes we felt this at MI Road Jaipur too. We were in TAX building BSNL when we felt the floor shaking & almost all staff including AM Central moved to the ground floor in the PGMTD Compound.
Comment by Karan Kumar:
My office is in Delhi... on the 5th floor..boss aisa laga jaise 5th floor par jhoola jhool rahe hai.
Comment by JP Kanodia:
In Jaipur it was really felt we all came down stairs and it was for few seconds may be 40/50 seconds and we could feel it.
Comment by Sudipta Choudhry:
We live in Muscat, and as I was leaving for an appointment, the table in our study room kept rattling for a good five minutes; not being the earthquake zone, it was quite surprising for us and left us wondering if we'd see something worse.

Comment by Bhavesh Vaishnav:
I was talking to my daughter while in office and felt tremor for about 5 seconds in Dubai. Everybody was on road.

Comment by Nishant Trivedi:
We all were in our office campus in Noida 126, and suddenly everything was shaking. The whole office was evacuated. The 'foreing Clients' were stunned !!