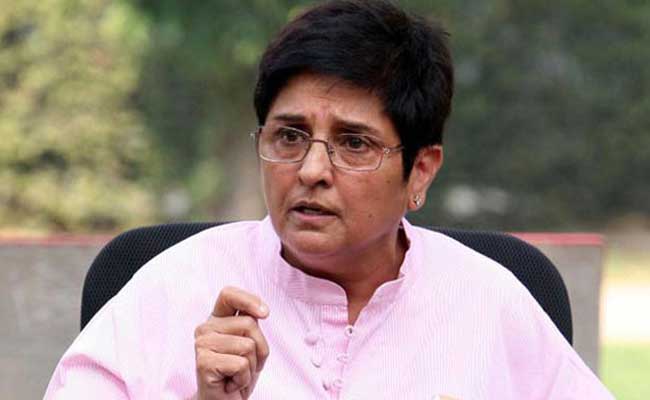 Puducherry:
Puducherry Lieutenant Governor Kiran Bedi today criticised Chief Minister V Narayanasamy for his remark that she should not act beyond her mandate, asking if he wanted a "rubber stamp or a responsible administrator".
Puducherry needed justice, integrity and good governance, said Ms Bedi.
In January, the Congress and DMK MLAs demanded that the centre recall the former Indian Police Service officer, accusing her having a "dictatorial" style of functioning which bypassed the elected legislature.
Ms Bedi last month met Home Minister Rajnath Singh in New Delhi and apprised him of the "constraints" she faced in serving the Union Territory.
Last year, Ms Bedi had threatened to quit the Union Territory if there was no improvement in the situation. Mr Naryanasamy yesterday said the chief minister, ministers and MLAs have specified authorities, and one should not interfere in another's authority.
Today, Ms Bedi said the "chief minister desired a lieutenant governor who is a mere endorser and a person who may let wrongs happen even when people are suffering injustice".
"He wants a lieutenant governor who is just an onlooker and passes time and enjoys benefits of expensive establishment called Raj Nivas without meeting people or questioning officers and would do what he tells even in writing," Ms Bedi said in a message to a WhatsApp group comprising journalists and other professionals.
"People are crying for justice, students and parents are crying for admissions as per the orders of government of India and higher judiciary," she said. She said the Raj Nivas was now becoming their last hope. "Does he want a rubber stamp or a responsible administrator?" Ms Bedi said.
Ms Bedi has already launched the official website of the Raj Nivas. She said she wants to make it a
bridge between the people
and government departments to solve their complaints.
Mr Narayanasamy last week criticised Ms Bedi for her directions to officials involved in the ongoing counselling for post-graduate medical courses. He accused her of adopting a "misleading approach" on the matter.
Making a statement in the state assembly on June 2, he alleged that Ms Bedi was criticising ministers and officials on social media and that she should stop making "derogatory remarks".
Ms Bedi on May 30 conducted a surprise inspection of the counselling process by the Centralised Admission Committee here, and directed officials to ensure 50 per cent of seats available under the government quota were filled and not given to private colleges or under the all-India quota.