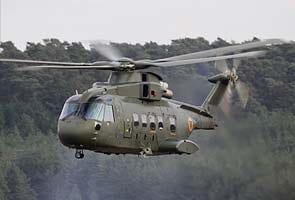 New Delhi:
India has asked UK company AgustaWestland to explain if it paid bribes to land a Rs 4,000-crore deal for 12 VVIP helicopters. The letter from Defence Minister AK Antony warns that the contract could be cancelled if the manufacturer does not cooperate. (
Read: Defence Ministry's statement on acquisition of AgustaWestland choppers
)
The alleged scam rests on the premise that without those revisions to the tender, AgustaWestland would not have made the cut. The government issued a statement to highlight that the changes to the tender were requested by its predecessor, the BJP-led NDA coalition.
The CBI is investigating the controversy which went mega this week after the arrest in Italy of the CEO of Finmeccanica, the parent company of AgustaWestland.
Italian prosecutors say that former Air Chief Marshal SP Tyagi was paid to ensure that technical specifications were changed to suit AgustaWestland. (
Read: Met ex-air force chief Tyagi a few times, says middleman
) They say his cousins were paid 12 million euros or Rs 86 crore, and that a middleman for AgustaWestland met with SP Tyagi six times, allegedly to discuss the contract. Air Chief Marshall (retired) Tyagi has denied the charges. (
Read
)
The revisions to the tender were requested and finalised in 2003, when the BJP-led NDA coalition was in power with Atal Behari Vajpayee as prime minister. But it was in 2006, that the new requirements were notified. By then, Dr Manmohan Singh was Prime Minister and Pranab Mukherjee was Defence Minister. SP Tyagi was Air Force chief. (
VVIP chopper scam: how the deal was signed
)
The government wants to stress that the alleged scam originated when the BJP was in power; the Opposition party counters that the deal was signed in 2010 on the Congress' watch.
The Italian enquiry says that two critical alterations to the original tender were dictated by AgustaWestland: the height at which the helicopters were required to fly was lowered from 18,000 feet to 15,000 feet; and engine failure flying test was added. (
Read: Why NDA's Brajesh Mishra ordered changes in technical specs
) This favoured AgustaWestland as its helicopters were the only ones in the tender operating with three engines.