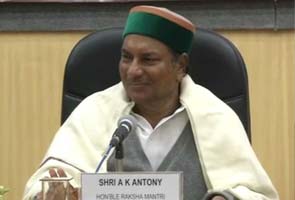 Last week, India started the process of cancelling a Rs. 4,000-crore deal for 12 AgustaWestland helicopters because of allegations that the contract was won with kickbacks. The Defence Ministry sent a show cause notice to AgustWestland of the UK asking why the contract should not be scrapped in view of the corruption allegations. Defence Minister AK Antony addressed this in his press conference today.
Below are the highlights:
We are waiting for the parliament session to begin

We will present the probe details to the Parliament. There is nothing to hide
We are waiting for CBI report
We are trying to get the truth from our sources
We have sent a show cause notice
For any deal, if any foul play is there we will take action. We will show no mercy.
We are trying to get details of the investigation from the Italian government

There is no question of a rift with the Ministry of External Affairs

We have blacklisted six companies
I thought that will be a warning to everyone. But, greedy people are working around the world

If there are reports of bribery or scams at any point of the procurement, we will cancel the deal
No question of my resignation
We have taken strict action against all complaints received

Waiting for concrete evidence, we'll take action against all accused
We have to strengthen our armed forces and modernise our forces
If in any procurement there is a problem, we will take action
Our armed forces are in a better position since 2010 and are prepared to meet any challenges against national security
If you don't have belief in me, (trust) CBI and if not them then the judiciary. But don't make roundabout allegations.