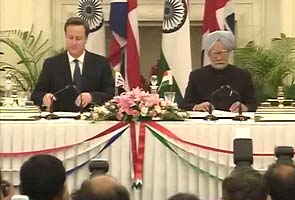 New Delhi:
India's Prime Minister Manmohan Singh said Tuesday he had conveyed his "serious concern" to British counterpart David Cameron over allegations of corruption in a 2010 deal for Anglo-Italian helicopters.
"I also conveyed to the prime minister our very serious concerns regarding allegations that unethical means were used in securing the 2010 contract for AgustaWestland," Singh told a joint press conference.
"Prime Minister David Cameron has assured me of the cooperation of his government in the investigation," he added.
AgustaWestland, which manufactures helicopters in Britain, is owned by Italian aerospace giant Finmeccanica, whose chief executive was arrested last week over allegations the company paid bribes to win the Indian deal in 2010.
"We will respond to any request for information. I am glad that the Italian authorities are looking into this issue in detail," Cameron told the press conference on the second day of his three-day trade-focused trip to India.
"In Britain we have introduced anti-bribery legislation that is probably the strongest anywhere in the world. We will root out any problems of bribery and corruption wherever and whenever they appear," he said.
Press reports based on leaks from Italian prosecutors suggest one of the alleged middlemen used to secure the deal for AgustaWestland is based in London.