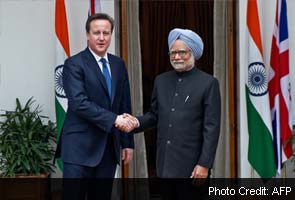 New Delhi:
Prime Minister Manmohan Singh said today that he has conveyed "serious concerns" over bribery allegations in the Rs 4000 crore deal for 12 VVIP choppers manufactured by Anglo-Italian firm AgustaWestland to his British counterpart David Cameron. During his meeting with Mr Cameron, the PM said he also sought UK's cooperation with the probe.
"I conveyed our serious concerns regarding the allegations about unethical means adopted by AgustaWestland. We have sought UK's assistance. PM Cameron has assured us full cooperation," Dr Singh said after his meeting. He also added that India has sought an explanation from AgustaWestland by February 22.
When the two leaders met in the capital today, Defence Minister AK Antony, who threatened last week to cancel the AW contract, was not be among the ministers present.
The British prime minister arrived in India on Monday with what he called the biggest-ever British overseas business delegation, pushing for better access to India's markets and greater trade.
(David Cameron pushes 600-mile Mumbai-Bangalore corridor)
Italian authorities made arrests last week during an investigation into bribes allegedly paid in 2010 by AW's parent company Finmeccanica for a 4,000-crore deal to supply a dozen helicopters for the intended use of Indian VVIPS including the Prime Minister and the President. One of the accused middlemen, Christian Michel, is based in London.
"These are allegations that have been made and the Indian authorities and the Italian authorities will want to get to the truth. If there are unacceptable practices then that needs to be dealt with," Mr Cameron said to NDTV in Mumbai on Monday.
He is also expected to remind India of the merits of the part-British Eurofighter jet, which was competing for a $12-billion contract until last year. India chose France's Dassault Aviation for exclusive negotiations but the deal has still not been signed.
Amid concerns about a drive to slash immigration numbers and fears that young Indians could be deterred from applying to study in Britain, Mr Cameron stressed in Mumbai that there was no limit on the number of Indians who could study there.
He also announced a new same-day visa service for Indian business people. (Read:
Same-day visa for Indian investors, no cap on students, says Cameron
)