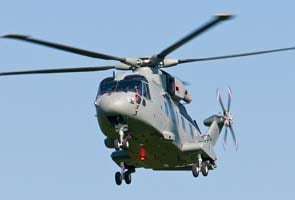 New Delhi:
CBI today quizzed the industrialist-brother of former union minister Santosh Bagrodia's Satish Bagrodia who is the Chairman of IDS Infotech, one of the suspect companies in the alleged bribery scandal in Rs 3600-crore VVIP Chopper deal.
CBI sources said IDS Infotech, a software company, has been named in its preliminary enquiry as one of the companies which was allegedly used to route the bribe money from Tunisia and Mauritius under the garb of engineering and other contracts.
The agency has named IDS Infotech in its preliminary enquiry but Satish Bagrodia is not named, the sources said.
They said Satish Bagrodia was questioned about alleged channeling of the bribe money through his company by Italian middlemen.
The sources claimed the industrialist refuted the allegations and said he did not interefere in the day-to-day working of the company which is handled by other senior executives and board members.
The name of IDS Infotech had cropped up in the report submitted by Italian Prosecutor which alleged the share of the bribe money to be distributed in India was routed through it under the cover of fake vouchers for software-related work.
The company had refuted all the allegations.
The report alleged IDS Infotech generated fake bills for software work for helicopter firm AgustaWestland to pump in the alleged bribe money from Tunisia and Mauritius.
The helicopter deal with AgustaWestland came under the scanner after the head of its parent Italian aerospace company Finmeccanica, that is suspected of paying bribes of about Rs 362 crore in India to get orders for the helicopters, was arrested, prompting the government to order a CBI probe.