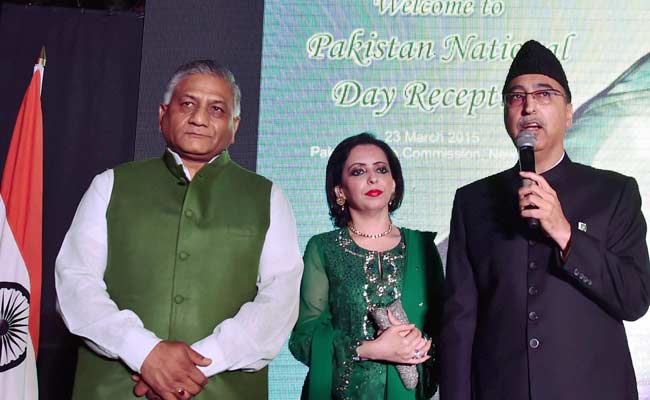 New Delhi:
Congress leader Manish Tewari today targeted Union Minister and former Army chief VK Singh, asking him to quit instead of expressing his disgust after he represented the government at the Pakistan national day reception in New Delhi.

Mr Tewari said in the past, ministers had refused to attend Pakistan events.

Mr Tewari tweeted,
If Mr#duty#Disgust is so disgusted with double standards of his govt on Pak he should quit? Other Min in past refused to attend PAK EVENTS!

- Manish Tewari (@ManishTewari) March 24, 2015
After attending the Pakistan National Day reception at the Pakistan High Commission yesterday, General Singh had issued a series of tweets defining "disgust" and "duty", indicating that he may have been unhappy at being deputed to it.

In the first of the five quick tweets, the former Army Chief had said, "To offend the moral sense, principles, or taste of". This was immediately followed by another which said, "To sicken or fill with loathing".

While the third tweet had said, "A job or service allocated," the fourth one said, "The force that binds one morally or legally to one's obligations".

The last tweet had said,
#DUTY A task or action that a person is bound to perform for moral or legal reasons

- Vijay Kumar Singh (@Gen_VKSingh) March 23, 2015
General Singh had told reporters after attending the reception that he was asked by the government to represent it at the function.
Congress leader PC Chacko slammed the government for not having a clear cut policy on the issue of Pakistan and Kashmir.

"The fact that Minister of State VK Singh was cutting a sorry figure in the crowd yesterday, it shows that there is no policy for Government of India in such matters. Pakistan celebrating their national day and also inviting all anti-Indian people there, whether it is Hurriyat (Conference leaders) or some other groups it is most unfortunate. I know, such people who hold extreme views against India are being invited.

"In this kind of audience how can the minister of state of India be comfortable? VK Singh very clearly came out saying that because of compulsion... because of the direction from the government he has got


"Of course when there is an invitation for the National Day of Pakistan, government of India has to respond, but a MoS and that too a former Army General was out to such great difficulty shows that the government does not have a clear cut policy on such matters," he said.
The NCP too slammed the government for making a "laughing stock" of itself over the issue.
"Those who were present there were the people who do not have any interest in people of India. If there was an invitation or a protocol, it could have been politely declined.
"But then a Union Minister going there and media making a laughing stock is a matter of deep regret for us," said NCP leader Majeed Memon.
JD(U) leader KC Tyagi said statements given by Singh after attending the meeting were uncalled for as the Common Minimum Programme of the BJP-PDP government in Jammu and Kashmir talks of having a dialogue with the separatists.
"VK Singh is giving wrong statements. The Common Minimum Programme of J&K government that there should be a dialogue with Hurriyat (Conference) and Pakistan," Mr Tyagi said.
Senior BJP leader Subramaniam Swamy slammed Manish Tewari for his comments on General Singh.