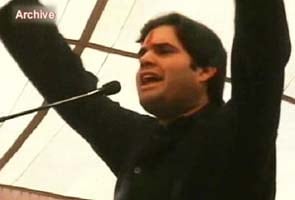 Pilibhit:
A court in Uttar Pradesh has acquitted BJP leader Varun Gandhi in one of two cases that accuse him of making hate speeches while campaigning in his constituency of Pilibhit in 2009 for the national elections. The 32-year-old was acquitted by the court due to lack of evidence.
The second case is expected to be decided on Friday.
Mr Gandhi, who was in court for the verdict, tweeted, "I welcome the decision of the honourable court that upholds my commitment to a strong and united India." (
Read: Varun Gandhi's full statement
)
Mr Gandhi won his parliamentary election after he spent 19 days in jail. He has denied that the speeches he delivered were designed to incite communal hatred. Mr Gandhi had not agreed to submit his voice sample to the police. He alleged that his speeches had been edited by local channels to make it seem like he was promoting communal hatred. The broadcasters were unable to furnish the original, unedited footage to the police.
The cases relate to speeches he made in two different towns.
51 witnesses called by the prosecution did not give any evidence or statement that implicated Mr Gandhi. Because the second case includes the same witnesses, legal experts anticipate another acquittal.
The investigation was handled by the Uttar Pradesh police.