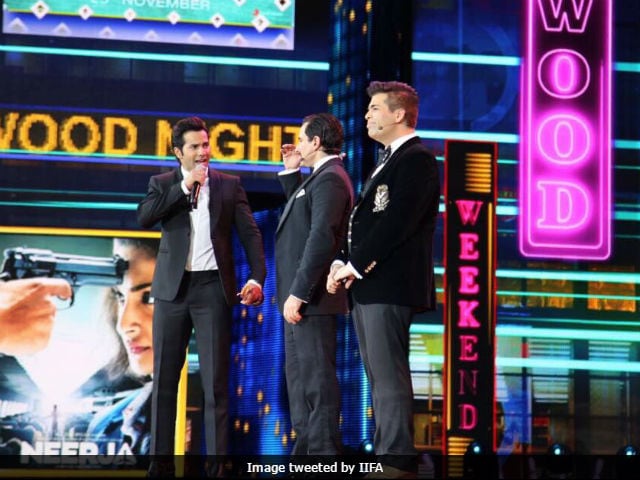 Highlights
'I express my apology and regret,' read the tweet
'I am extremely sorry if I have offended or hurt anyone,' was added
However, Kangana is not mentioned in the tweet
New Delhi:
Actor Varun Dhawan, one of the three men
who delivered a rather unkind cut to actress Kangana Ranaut
at the recently concluded IIFA Awards, has tweeted what seems to be an apology. On Tuesday, some three days after the award show was held in New York, Varun wrote on Twitter: "I express my apology and regret. I am extremely sorry if I have offended or hurt anyone with that act." On Monday night, he tacked on a 'sorry if I let anyone down' to a tweet about how 'amazing' it was to perform at the IIFA Awards. Kangana is not mentioned in either tweet - she wasn't named on stage at IIFA either but there was little doubt who Varun Dhawan, Karan Johar and Saif Ali Khan had in mind when they chanted '
nepotism rocks
.'
Varun's tweet has prompted speculation in the comments thread over whether or not Karan Johar will also apologise:
I express my apology and regret .. I am extremely sorry if I have offended or hurt anyone with that act..

— Varun Dhawan (@Varun_dvn) July 18, 2017
In what appeared to have been a coordinated effort, IIFA co-hosts Karan Johar and Saif Ali Khan and Varun,
winner of the Best Actor in a Comic Role award
, referenced their star kid privilege as Varun collected his trophy. "You are here because of your Papa," Saif Ali Khan told Varun, son of director David Dhawan. The younger actor responded, "And you're here because of your mummy" - Saif is actress Sharmila Tagore's son. Karan Johar, whose father Yash Johar set up Dharma Productions, chimed in, "I am here because of my Papa." All three men then said, "Nepotism rocks."
The backstory to this features Saif's
Rangoon
co-star Kangana Ranaut, who told
Karan Johar on his show Koffee With Karan
that he was the "flag bearer of nepotism" in Bollywood. That was several months ago and this new, thinly-veiled barb at Kangana (who wasn't at IIFA) was criticised by Twitter, more so because it was made in her absence.
I'd like to see the likes of Karan Johar, Saif & Varun Dhawan try their Nepotism humor when Kangana is in their presence. #IIFA

— Abhishek Singhvi (@DrAMSinghvi) July 17, 2017
I don't know what kind of entitlement you need to actually find 'nepotism rocks' funny. Like yeah it did for you and that makes you a loser.

— Floof. (@meownologue) July 17, 2017
@Varun_dvn ..am ur ardent fan n I believe there nothing wrong in Nepotism but attacking a girl on stage by her name -Not acceptable I feel

— Monalisa (@Finallyfoundme) July 17, 2017
Three overgrown children got on stage at #IIFA2017 and hollered "nepotism rocks". Real mature. Mantastic.

— Coconut Kanmani (@HazeedaVijay) July 17, 2017
A while ago, Karan Johar addressed the charge of nepotism
in his column for NDTV.com
, writing: "I accept that nepotism is a reality, that it exists. Nepotism is a result of easy access to an exceptional resource. I acknowledge that my father was a producer and that made my first film, even the idea of it, possible. But let's also not forget that I started as the son of a producer with five failures behind him." It appears that wasn't his last word.
Kangana Ranaut hasn't commented yet.