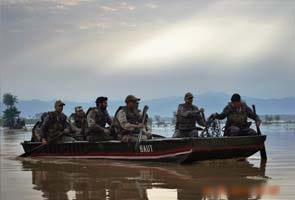 New Delhi:
In one of their largest relief and rescue operations in the last several decades, defence forces have deployed over 8,500 personnel and around 20 aircraft in rain-ravaged areas of Uttarakhand.
Defence Minister A K Antony has ordered the three Services to deploy their maximum possible resources in the state and provide all help to civilians and local authorities in rescue and relief operations. (
Pics: Army called in for relief
)
The Army has deployed around 5,600 personnel along with 3,000 troops of the Border Roads Organisation (BRO) along with their heavy equipment including bulldozers and JCBs. The IAF has deployed 18 choppers, including four Advanced Light Helicopters which are part of its aerobatic team Sarang, a Defence Ministry spokesperson said.
Ministry sources said so far only 18 choppers have been deployed as IAF pilots do not find it safe to land as soil has loosened up due to rains.
Due to this problem, the IAF has been able to deploy only its ALH Dhruv and other light helicopters in the worst-hit
Kedarnath
area, where a 14 km road stretch got washed away in flash floods. (
See pics
)
The force is also facing issues over aviation fuel availability in Dehradun as the Jolly Grant airfield near there was being used as a hub for all rescue operations.
The IAF also deployed its C-130J Super Hercules transport aircraft in the operations to map the worst-affected areas using its hi-tech radar in the higher reaches of the state after which relief operations would be prioritised and consolidated.
As part of operation 'Operation Rahat', IAF has deployed 20 aircraft, which includes eight Mi-17 and Mi-17 V5s, 10 ALH Dhruvs and one each of C-130J, Avro and An-32.
Army has launched 'Operation Surya Hope' in Badrinath, Hemkund and Kedarnath regions.
Defence Ministry said the Army has so far evacuated over 6,000 people in the state and has estimated over 25,000 personnel could be stranded in the affected areas.
Under the first phase of its operation, Army has carried out reconnaissance of area and air evacuation in isolated pockets along Govindghat-Badrinath road and Ghagriya-Hemkund track and will concentrate on isolated people at Badrinath and Ghagriya on Thursday.
"Focused air evacuation will then commence from both the places from June 21," the Ministry said.
"In the second phase, Army will target Kedarnath region.
Reconnaissance of the area has been undertaken on Wednesday and the troops will be concentrated at Sonprayag and Kedarnath. All isolated people will be concentrated at Sonprayag and Kedarnath on June 21 and air evacuation will commence from June 22," it said.
Army will also induct soldiers in Badrinath and Kedarnath sectors using helicopters to be stationed every 2 km all along the roads to enable them to contact isolated people.
"Soldiers would be in place by tomorrow to provide leadership, succor, medical aid and engineer effort. Army has so far inducted 12 medical teams and opened emergency medical helpline," the Ministry said.
Army has also helped in repairing a hydel project in Harsil and enabled people stranded there to contact their families through its communication facilities.