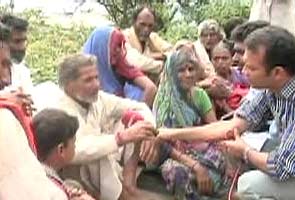 Dehradun:
Even with hundreds dead and thousands stuck in tragedy-hit Uttarakhand, there are people who have decided to make a quick buck by exploiting the helpless and stranded. Survivors, who for days have battled the cold without any food or water, are now facing another threat.
"Some unknown people came and robbed us. They took everything we had. They took even our shoes. What could we do? They were armed. We had not eaten for days. We were weak. We now have blisters on our feet. With great difficulty we climbed down," said a teary-eyed elderly couple.
Radheshyam Pandya, another survivor, said, "I don't know where my brother-in law is. I gave a man Rs 2000 to bring him to us. He didn't come back. I gave another man Rs 3000. He too didn't return."
"Taxi drivers are charging four times the fare. We had to give everything we had. It became so bad that we almost had to sell the clothes we are wearing. What could we do? We were desperate and worried," said a man stranded in Uttarakhand.
"They are selling a
paratha
for Rs 250, a bottle of water for Rs 400," said another survivor.
After being pushed to the extreme, physically and psychologically, many of the survivors are arriving at the relief camps, without a rupee in their pockets. And with no money left, they face another challenge - making the long journey back home.