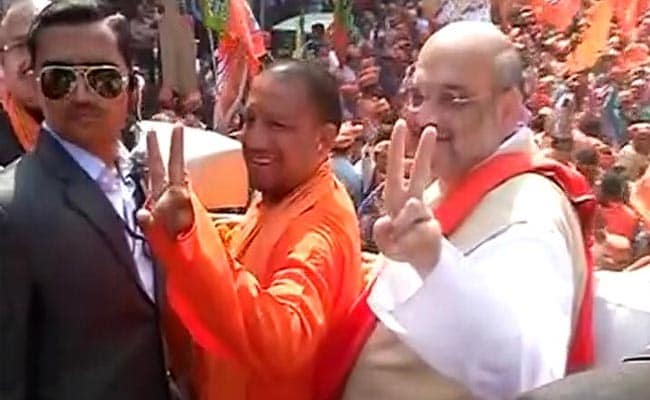 New Delhi:
On his way to the airport after his farewell speech in the parliament today, the newly-elected Uttar Pradesh Chief Minister Yogi Adityanath made a quick stop at the residence of BJP Chief Amit Shah for an unscheduled meeting.
The Chief Minister was on his way to the airport when his carcade made a U-turn. The stopover at Mr Shah's residence lasted nearly an hour.
Mr Adityanath then reached his Rakab Ganj Road residence, which he has been occupying as a Lok Sabha member.
Though there was no official word on the meeting between the two, sources said a further discussion on allocation of portfolios to the Uttar Pradesh Council of Ministers was the reason for Mr Adityanath's prolonged stay in the national capital.
The presence of two heavyweights as Deputy Chief Ministers and various regional and caste satraps in the ministry has made the task a tricky one for the party. This includes Shiv Sena. After it placed second in the Maharashtra election in 2014, the Sena agreed to join the BJP as junior partners in a coalition government, but was denied the post of Deputy Chief Minister.
The discussions between Mr Adityanath and the party's top brass today came amid speculation that Deputy Chief Minister Keshav Prasad Maurya, who is also the UP BJP chief and the party's OBC face, is likely to be given a key profile.
He was a contender for the chief minister's post, but had lost out to the Gorakhpur MP.
Sources added that the BJP will also put the administrative experience of other Deputy Chief Minister Dinesh Sharma, who has worked as Lucknow mayor, to good use.
(With inputs from PTI)