Goa and Bhadohi:
Of all the states going to polls in the next few days, the contrast couldn't perhaps be more stark than between Uttar Pradesh and Goa. One is the country's largest and most populous state, the other among the country's smallest.
Zahid Beg, the sitting Samajwadi party legislator from India's hand-knotted carpet capital Bhadohi in eastern Uttar Pradesh, is seen as facing a mammoth challenge ahead to get re-elected. His constituency, by a rough estimate, is around 350 sq km. And it isn't even the biggest of Uttar Pradesh's 403 assembly constituencies.
There are over 4 lakh voters here and so there is a daily challenge of travelling at least 30-40 km. It is a gruelling schedule: Travelling on bad, unpaved roads that lead to the villages, the venues for their small election meetings.
Mr Beg has reached Ghaskari village and targets reaching out to the 1,800 voters who live in the village's 200-odd houses. So he calls for a few cycles. Some posters of Chief Minister Akhilesh Yadav are quickly pasted on the front, and an impromptu cycle campaign begins. His 50-odd supporters scramble to get hold of cycles too as the candidate makes his way across the village.
"I usually travel by cycle and motorcycle, so it is not a big deal for me. People who are used to travelling by cars face a problem. But yes, it is a big area and the challenges are many. We have to keep our focus. It's a 12-hour drill every day," says Mr Beg about his constituency.
Contrast this with Goa BJP legislator Michael Lobo's campaign in Calangute - and the difference is stark. Calangute is just 12 km in length and about 5 km in breadth. The entire constituency has just about 25,000 voters.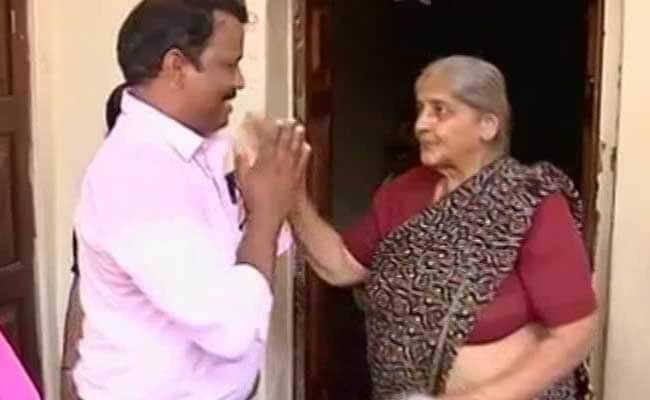 That means door-to-door campaigns by foot are the best option. Mr Lobo has worked out a clear map that has every house in the area. He makes it a point to visit at least 200 homes each day. The team with the candidate - not more than 7-8 people.
Going door-to-door is a luxury that Mr Beg can hardly afford. "Four lakh people in Uttar Pradesh and 25,000 in Goa are the same. People here are used to seeing their candidates all the time," says Mr Lobo, who won the last election with over 9,900 votes in 2012. "There, (in UP's Bhadohi) people barely get to see their candidates once in 5 years," he adds.