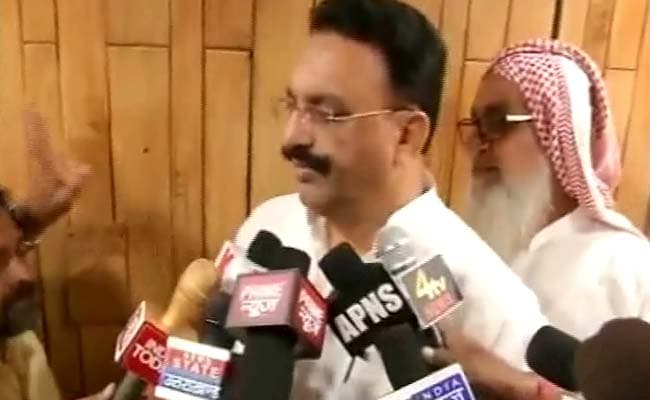 Lucknow:
Mukhtar Ansari, gangster-turned-politician, is set to join Mayawati's Bahujan Samaj Party or BSP in Uttar Pradesh on Thursday, sources said, after Chief Minister Akhilesh Yadav made it clear that he did not want him in the Samajwadi Party. Mayawati is expected to announce the entry of Mr Ansari and members of his family tomorrow and, sources said, has agreed to give them three UP assembly seats - Ghosi, Mau and Mohammadabad - to contest.
Mukhtar Ansari is the sitting legislator from Mau and will contest from there, while his son Abbas Ansari will contest from Ghosi and his older brother Sibagatullah Ansari will contest from Mohammadabad, said sources. To accommodate them, Ms Mayawati will have to withdraw three BSP candidates already announced for these seats in East UP.
Mr Ansari is said to have approached the BSP after Akhilesh Yadav ignored him completely while deciding Samajwadi Party candidates for the UP elections, to be held in seven phases from February 11.
Last year, the Samajwadi Party had announced that Mr Ansari's party was merging with it based on a deal made by Shivpal Yadav, Akhilesh Yadav's uncle. Akhilesh's vehement opposition to the merger became central to a bitter tussle for power in the Samajwadi Party between nephew and uncle that saw party patriarch and then chief Mulayam Singh Yadav side with his brother over son Akhilesh.
Early this year, Akhilesh Yadav staged a coup deposing both his father and uncle to take control of the party. With a majority in the party backing him, the takeover was endorsed by the Election Commission.
The Ansaris allege that they were cheated by the Samajwadi Party. Akhilesh Yadav, they claim, had sought the support of Sibagatullah Ansari when he submitted evidence to the election commission that he commands the most loyalty in the party. But none of the Ansaris were named in the Samajwadi Party's list of candidates. Unlike Mukhtar Ansari, who is lodged in Lucknow district jail, other members of his family to do have criminal antecedents.
Akhilesh Yadav has sidelined several party members close to his father and uncle. One such Mulayam aide Ambika Chaudhary too joined Mayawati's party a few days ago.
The Ansaris are from a very well-known political family in UP - Mukhtar Ansari's grandfather Dr Mukhtar Ahmed Ansari was national president of the Congress party - and are seen to have considerable influence in about 20 assembly constituencies in Ghazipur, Mau, Azamgarh, Ballia,and Varanasi.
Mayawati is aggressively wooing the Muslim vote bank in these UP elections and has fielded 97 candidates from the community, the most ever by her party.