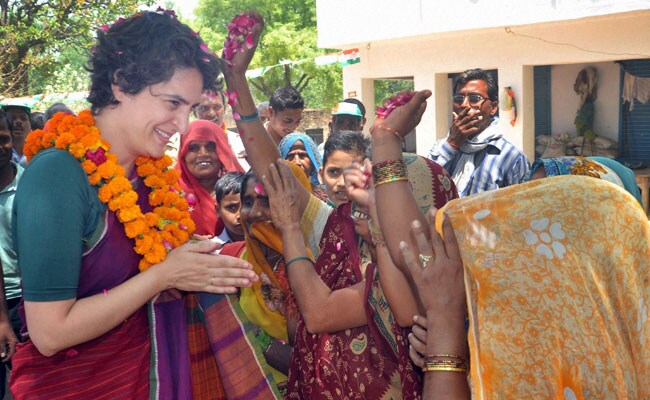 Highlights
'Prettier campaigners' than Priyanka Gandhi remarks BJP's Vinay Katiyar
Exposes BJP's mindset towards half of India's population, she responds
Ms Vadra's name is in Congress' list of 40 star campaigners for UP polls
New Delhi:
Priyanka Gandhi Vadra today laughed off BJP leader
Vinay Katiyar's offensive comment
about "prettier campaigners" in his party and said, "It exposes the BJP's mindset towards the better half of the population of India."
Vinay Katiyar has refused to apologise for his comment on Congress president Sonia Gandhi's daughter featuring in the party's list of campaigners for the Uttar Pradesh election.
"What difference will it make? We have more beautiful star campaigners...heroines, artistes...they are better," Mr Katiyar, a Rajya Sabha member, said to a question on whether Ms Vadra would make a huge difference to the campaign. His party BJP has condemned the remarks, with union minister Venkaiah Naidu calling it "unacceptable".
Priyanka Vadra's reaction was tweeted by one of her aides, Preeti Sahai: "He's right...they do! And if that's all he sees in my colleagues who are such strong, brave and beautiful women that have battled through all sorts of hardships to get where they are, then he makes me laugh even more."
Response from Ms.Priyanka Gandhi Vadra as given to @Tavysingh in response to Mr.Katiyar's statement pic.twitter.com/tYLtZpPglv

- Preeti Sahai (@sahai_preeti) January 25, 2017
Speaking to NDTV, Mr Katiyar was unapologetic and declared: "I am not sorry, I will not apologise."
He, however, condemned another sexist statement by fellow
parliamentarian Sharad Yadav
, a leader of Bihar's ruling party, who said the honour of a vote is more important than the honour of a daughter.
Robert Vadra, Ms Vadra's husband, has said that the BJP leader should issue a public apology.
Ms Vadra's name in a list of 40 star campaigners of the Congress in Uttar Pradesh has reinforced speculation that the 45-year-old is prepping for a bigger role in the party. She has never campaigned outside the Gandhi family constituencies of Raebareli and Amethi.
The party says that may not change this time either, but her name is still in the list of speakers for the first set of constituencies that will vote on February 4, which do not include the Gandhi strongholds.