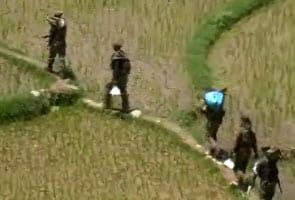 New Delhi:
The United Nations has asked India to repeal the controversial Armed Forces (Special Powers) Act, saying it had no role to play in a democracy. This comes amid clamour for withdrawal of AFSPA from Kashmir.
A United Nations (UN) Special Rapporteur today urged India to repeal the controversial law that gives its military special powers to act in troubled areas. Christof Heyns, UN's Special Rapporteur on extrajudicial, summary or arbitrary executions, told reporters here that the Armed Forces (Special Powers) Act has become a "symbol of excessive state power" and "has no role to play in a democracy".
His comments came after the conclusion of his 12-day fact-finding mission to examine situations of extrajudicial, summary or arbitrary executions in India.
"During my visit to Kashmir, AFSPA was described to me as 'hated' and 'draconian'. It clearly violates International Law. A number of UN treaty bodies have pronounced it to be in violation of International Law as well," said Heynes.
Accountability is circumvented by invoking AFSPA's requirement of obtaining prior sanction from the Central government before any civil prosecutions can be initiated against armed forces personnel, he said, quoting the report. "Information received through RTI applications show that this immunity provision effectively blocks any prosecution of members of the armed forces," he added, recommending immediate repeal of the law.
As part of his fact-finding mission Heyns visited Gujarat, Kerala, Jammu and Kashmir, Assam and West Bengal and met secretaries of various ministries, police officers, human rights activists and other officials in these states.
The UN Special Rapporteur's final conclusions and recommendations will be submitted as a comprehensive report to the Human Rights Council at a future session in 2013.
"The main finding in my report is that despite constitutional guarantees and robust human rights jurisprudence, extrajudicial killings continue in India and it is a matter of serious concern," Heyns said.
Salutary guidelines laid down by the Supreme Court, many of which have been incorporated through amendments in the Code of Criminal procedure are not sufficiently complied with, he claimed.
Prevalence of communal violence, encounter killings, custodial deaths, 'honour' killings and plight of dalits and adivasis are other areas of concern mentioned in the report. In the report, Heyns proposed a number of provisional steps to be taken to address these concerns, including the establishment of a Commission of Inquiry, consisting of respected lawyers and other community leaders.
"India also should ratify a number of international treaties, including the Convention Against Torture and the International Convention for the Protection of All persons from Enforced Disappearance," he said.
Heyns' visit is the first mission to India by an expert mandated by the UN Human Rights Council to monitor and report on extrajudicial, summary or arbitrary executions.