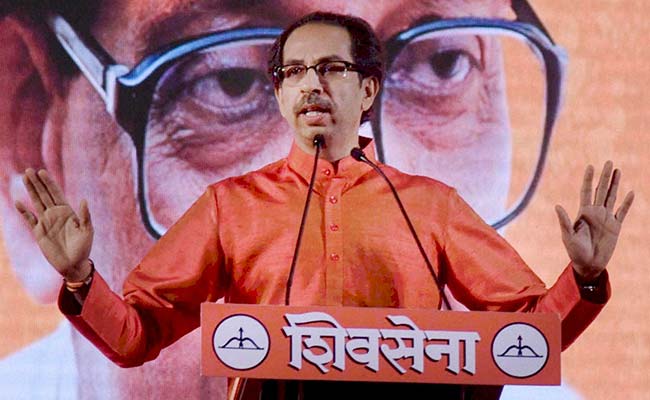 Mumbai:
Shiv Sena president Uddhav Thackeray on Sunday alleged the BJP was trying to "upstage" his party on its home-turf, violating an understanding that underpinned the saffron alliance for over two decades. He also reiterated his party will fight all future elections alone.
Addressing a farmers' rally at Paithan in Aurangabad district of central Maharashtra, Mr Thackeray said, "The understanding in the alliance for the last 25 years was that the BJP will lead the country and we will deal with Maharashtra. Also, we didn't want a division of Hindu votes.
"We always helped them. Now they (the BJP) are trying to upstage us in our own house. What should we do?"
After his announcement last month that the Sena will contest the next Assembly as well as Lok Sabha polls alone, Mr Thackeray said there was a debate now as to who would be the loser from the decision, his party or the BJP.
"Election results will show who will win or lose. The Shiv Sena will fight alone and win," he said.
He took a swipe at the NCP too, saying it neglected farmers when it was in power, and now in opposition it is trying to project itself as the champion of their cause by organising rallies.
The NCP had held a rally in Aurangabad on Saturday.
It is only the Shiv Sena which has relentlessly fought for farmers over the last decade, he said.
As to the criticism the Sena has faced for constantly sniping at the BJP while sharing power with it in Maharashtra as well as at the Centre, Thackeray said, "Shiv Sena is taking on the government for people's issues and not for self- interest. We will continue to fight with the government on the issues concerning common people."
The BJP-led state government agreed to give a loan-waiver to farmers only because of Sena's pressure, Mr Thackeray claimed.
The schemes of the Union government remain only on paper and they have nothing to show on the ground, Mr Thackeray said.
Sugar is being imported from Pakistan, shortchanging domestic farmers, he alleged. "What kind of love for farmers this is?" he asked.