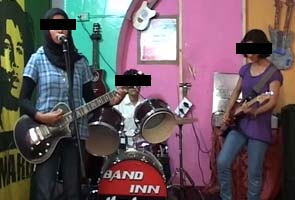 Srinagar:
Two men, who had allegedly attacked the members of Kashmir's all-girl band online, have been arrested. Both the men were arrested from south Kashmir, police said.
The band, Pragaash (which means First Light), was disbanded yesterday.
The accused, Rameez Ahmad Shah and Tariq Khan, had allegedly posted derogatory comments on the band's Facebook page after creating fake accounts. Investigators cracked their real identities after verifying their IP addresses.
They have been booked under 66A of IT Act under which they could face jail for up to three years and be fined Rs 2 lakh. Charges of criminal intimidation under Section 506 of Ranbir Penal Code have also been slapped on them.
Police have also identified other abusers and a search is on to arrest them.
The Grand Mufti Bashiruddin Ahmad had also issued a fatwa (religious opinion) against the band, denouncing their music as "un-islamic". The band members decided to call it quits after this.
"Nothing has forced us to quit, we quit for the happiness of our people. As the grand Mufti said, it is un-Islamic and it is 'haram,'" one of the members of the group told NDTV.
Pragaash shot to prominence in December when it won an annual "Battle of Bands" competition held in Srinagar, the state capital.