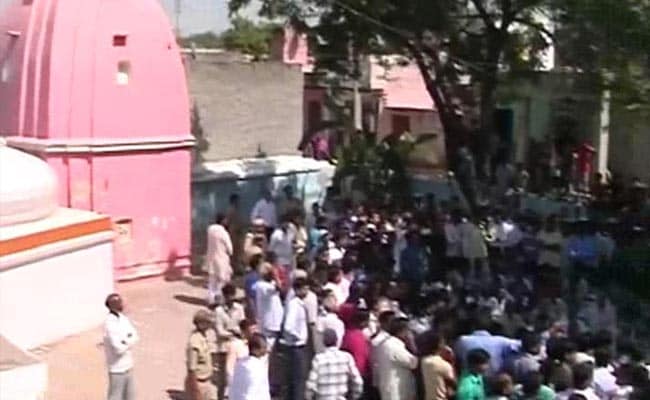 New Delhi:
Two of the main accused in the killing of a man by a mob in a village in Uttar Pradesh's Dadri, have been arrested, police said today.
The two young men identified as Vishal Rana and Shivam Kumar, in their early twenties, were arrested after a five day manhunt, police said.
Police sources also indicated that they suspect Vishal was among the main conspirators. He allegedly organised a meeting in which people were provoked to attack Mr Iqlakh's family.
Police sources also said families of the accused, who are also residents of the village, have not been cooperating with the investigation.
Media crews, including an NDTV team, that have been reporting from the village were attacked by a group of women today
.
A total of nine people have been arrested so far amid a huge public outcry over the killing of 50-year-old Mohammad Iqlakh allegedly over rumours that he had eaten beef.
Yesterday police had said they have launched a manhunt to find people who were part of the mob that carried out the attack.
Mohammad Iqlakh was beaten to death by a mob in Dadri
on the outskirts of Delhi on Monday night. He and his 22-year-old son were dragged from their house by around 100 villagers and beaten with bricks. Iqlakh's son is critical.
Half an hour before the attack, an announcement was allegedly made at a temple nearby that a calf had been slaughtered and its carcass had been found near a transformer.
No names were taken in the announcement, but there are only two Muslim families in the area and the other family was out.
Killing cows is illegal in Uttar Pradesh.
Police are investigating who started the rumours in a part of western Uttar Pradesh that is prone to trouble at the slightest provocation.
A string of political leaders have visited the village since the incident.
Delhi Chief Minister Arvind Kejriwal visited
the village today. Yesterday, All India Majlis-e-Ittehadul Muslimeen (AIMIM) chief
Asaduddin Owaisi and local lawmaker Mahesh Sharma
of the BJP has paid visits.