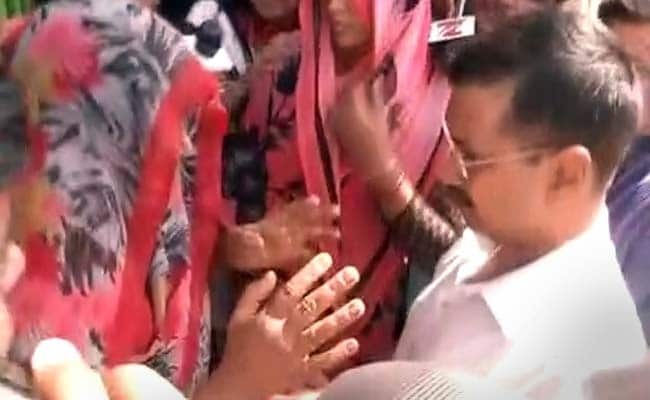 Basera:
Delhi Chief Minister Arvind Kejriwal today visited Basera village in Dadri, on the outskirts of Delhi, to meet the family of Mohammad Iqlakh,
who was killed by a mob earlier this week allegedly over rumours that he had eaten beef
. Hours after Mr Kejriwal, Congress Vice President Rahul Gandhi too paid a visit to the victim's family.
Mr Kejriwal met Mr Iqlakh's family who were also attacked on Monday night by the group of around 100 people. He also met other families who live in the village.
"There has been no history of any communal tension in the village. On one side, Mr Iqlakh's family lost him, on the other, women say their children have been picked up the police for investigations. So who benefited? Only parties and netas," he told reporters later.
"One party wants to make Muslims their vote bank. The other party wants to make Hindus their vote bank. If one party says attack Muslims because Hinduism is in danger, then they can't be Hindus at all," Mr Kejriwal said.
The Chief Minister had
earlier been stopped and taken to a government guest-house
. Police said they had not stopped Mr Kejriwal but 'advised' him against visiting the village for his own safety.
Later in the evening, Rahul Gandhi visited the village and paid his condolences to the family of Mr Iqlakh.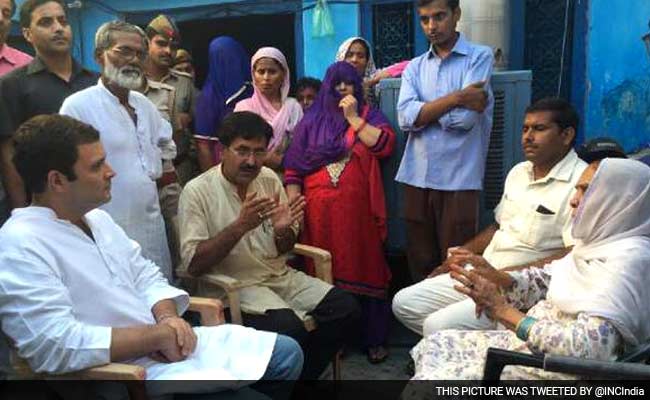 "It is very sad to see the trust and harmony built over decades, destroyed by the politics of hate," Mr Gandhi tweeted after the meet.


Hatred between our people weakens India. We have to stand together and fight those who spread it

Office of RG (@OfficeOfRG) October 3, 2015
In the morning, a group of villagers led by women drove out media and other visitors, including AAP volunteers, from the village. The villagers complain that their daily life has been hit by the constant stream of politicians, their entourage and media.
Later, a group of women
attacked media crews, including an NDTV team, reporting from the village
.
Yesterday, All India Majlis-e-Ittehadul Muslimeen (AIMIM) chief Asaduddin Owaisi and local lawmaker Mahesh Sharma of the BJP visited the village.
Mohammad Iqlakh, 50,
was beaten to death by a mob in Dadri on the outskirts of Delhi on Monday night
. He and his 22-year-old son were dragged from their house by around 100 villagers and beaten with bricks. Mr Iqlakh's son is critical.